Hey Anime fans,
As it's been made abundantly clear, especially to those who attended the meetup, there is indeed a secound movie. In fact, it's coming to the Metrotown theater again this Wednesday at the same time as the first movie.
Whats not been made abundantly clear as that we'll be moving the meetup time back to 5pm so we can have just a bit more social time prior to the movie. We'll meet at the same spot and head over to the food court for some chow. We'll head back again about 7 or earlier to get a good spot in the lineup and good seats.
If you missed the first meetup, I would recommend having seen the TV series version so you can know which part of the story this movie is at. If you haven't you will be quite lost.
I *think* everyone from last week had tickets for the 2nd movie. If not, Daniel Friesen has offered to pick up tickets for anyone unable to get then online or at the the theatre. Prepurchasing tickets is highly recommended.
So apart from those amendments, the plan is the same as before.
Looking forward to seeing everyone again as we had so much fun the last time.
End Meetup Decription. Here is the Story so far:
Miss Madoka, our title character, is still not a Magical Girl even at the end of the first movie. She was made the offer to become one, along side her friend Sayaka, by the mystical Kyubey. She needs to make a wish before she can become a Magical Girl. It`s been said that she would become the most powerful Magical Girl if she ever makes her wish. She almost did have a wish fulfilled when Kyubey was abruptly ``killed`` by Homura before being able to fulfil Madokas wish. Homura is either very jealous or fearful, or both, of Madokas potential for power. In the mean time, Madoka has been observing Sayaka as she fights witches while somehow avoiding being harmed herself.
On the other hand, Sayaka did become a Magical Girl and it`s been a mixed blessing. She used her wish to help her childhood friend and romantic interest, Kyousuke, to be restored to full health after he had an accident that prevented him from using his hands or playing his violin. The choice to make a wish and become a Magical Girl eliminated her hope to become his girlfriend due to her Lich like immortality and body making it impossible for her to have a romantic relationship. The sadness she garnered from this has driven her to a Berzerker rage which ultimately corrupted her soul badly enough cause her to be surrounded by a rather nasty Aura. We know not yet what will happen to Sayaka but I`m sure we`ll find out.
Mami was the first Magical Girl that Madoka and Sayaka met. She showed both of them to the surreal world of witches and how to find and fight them. All was good until she made a slight miscalculation and got killed by a powerful witch. She remains quite dead for the rest of the first movie. I thought Madoka might of used her wish to restore her back to life DBZ style but that didn`t happen. Will she make a come back? We shall see.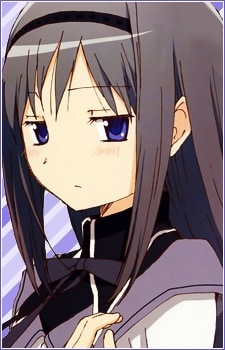 Homura, who we are going to refer to as the grumpy cat, is the seemingly emotionless veteran Magical Girl who uses her wisdom to try to console and help the other Magical Girls. She tried to console Mami not to take on the Witch that killed her. She also helped save Sayakas life after she lost the crystal containing her soul. Homura and Kyoko are on the forefront of all things witch related and are presently keeping tabs on a foreseeable huge witch problem in the near future. The fact that Sayaka is about to explode like Akira should also be on the forefront of their attention.
Unlike Homura, Kyoko is quite emotional and rowdy. She too is a Veteran Magical Girl who often ends up fighting and alienating herself from other Magical girls. She has a very self centered personality and doesn`t have any concern for the welfare of others. Kuebey isn`t all that concerned with her attitude as long as she hunts witches. Homura seems to be the only person she relates well to and is the only person trying to negate her ego. Hopefully she`ll be of some help when dealing with Sakaya.
Not a whole lot is known of Kyebey at this point apart from serving an advisor role and being a headhunter of Magical Girls. That, of course, says absolutely nothing as to what exactly he is or where he came from. or why anyone should trust him. His expressionless face and unrelenting stare is unnerving.