Now open for RSVPs. Jessie Benton Fremont (photo at right circa 1849). We will meet at a Starbucks on the corner of Jackson & Davis that is 5 short blocks North from the Embarcadero BART Station. There is a Safeway with 2 restrooms next door. One should either bring a sack lunch or buy one at our starting point. The only cost is $3 cash to be collected later in the walk. At 10:40 AM we will probably walk to the nearby Sidney Walton Park to take our group photo. Then we walk through the Embarcadero Center and to the North end of the Ferry Building. Then we walk North along the waterfront seeing old ships such as ferry boats and a riverboat. Then we will go to the Aquarium of the Bay near Pier 39 to use their restrooms on the 2nd level. Lost attendees can find us there.
We then walk to Beach Street to avoid the crowded Fisherman's Wharf area. On Beach St. we walk West to and then through the Cannery to Aquatic Park, where we may eat our sack lunches in the big bleachers there starting about 1 PM. This first half of the walk is flat. Then we will start on the hard part of the walk as we walk uphill at Fort Mason.
I changed this route right before we did it most recently, May 25, 2013. Some new free museums opened up on this route. Before May 25, 2013, the 2nd half of this walk was hard with lots of up and down walking. So that we can visit all of the 5 free museums & galleries along this route and get us back at a reasonable time I cut out some of the up and down walking making some of our walking segments shorter, easier and faster.
At Fort Mason we will see historic buildings and places such as Black Point, the site of the home of 2 of the 3 biggest players in national history that I know of that ever lived a year or more in San Francisco: Jessie Benton Fremont, and her husband John C. Fremont. Nearby we will see the one remaining Civil War cannon that was a part of a now partially restored battery called Black Point Battery. We will visit a big beautiful community flower garden.
Then we walk East over Russian Hill and then walk a little up Telegraph Hill on the North side. Then it will be a quick easy walk to our starting point, estimated ending time 4:20 PM. Some of us may then decide to celebrate our walk with food/drink at a nice bar inside the Hyatt Regency Hotel.
John C. Fremont (photo below).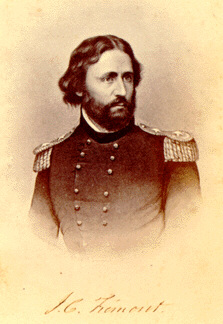 Below is a recent photo of the SF waterfront.
Below is just one flower in community garden inside Fort Mason.
Below is a hummingbird in community garden inside Fort Mason.
Below is a small part of the community garden inside Fort Mason.
Below is a small part of the community garden in Fort Mason.
Below 2 photos show our group in the garden at a previous walk.
Below 2 photos show the area near our last museum.