Egypt and the Middle East: What's Next?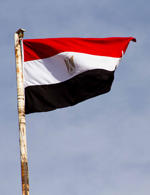 Tue, Aug[masked] - 6:30pm
Stephen Zunes, Professor, University of San Francisco; Chair, Middle Eastern Studies Program; Author, Tinderbox and Non-Violent Social Movements
Jonathan Curiel, Journalist; Author, Al'America: Travel Through America's Arab and Islamic Roots - Moderator
Dina Ibrahim, Ph.D.,  Associate Professor of Broadcast and Electronic Communication Arts, SFSU; Former Reporter, BBC World Service Radio, NPR, CNN in Cairo, UPI in Cairo and Arab News in Dhahran, Saudi Arabia
Additional panelists TBA

In 2011, the world watched as revolutions rocked the Middle East. Egypt, inspired by the ongoing protests in Tunisia that led to the fall of dictator Zine El-Abidine Ben Ali, ousted their own autocrat, President Hosni Mubarak, after citizens took to the streets. Two years later, the revolution in Egypt continues. What does the political climate in Egypt look like today? What happens next for the country, and what does it mean for the region? We unpack the on-the-ground story, explore the events between 2011 and today, and discuss the future of Egypt and the Middle East.
Location: Lafayette Library, 3491 Mt. Diablo Blvd., Lafayette
Time: 6 p.m. check-in, 6:30 p.m. program
Cost: General admission: $10 non-members, $5 members, students free (with valid ID).
Also know: In association with the Middle East Forum MLF. Photo by Zachary
- See more at: http://www.commonwealthclub.org/events/2013-08-13/egypt-and-middle-east-whats-next#sthash.jtqv8wPR.dpuf
For TICKETS and more info:
http://www.commonwealthclub.org/events/2013-08-13/egypt-and-middle-east-whats-next