December 7, 2013 · 7:30 PM

This location is shown only to members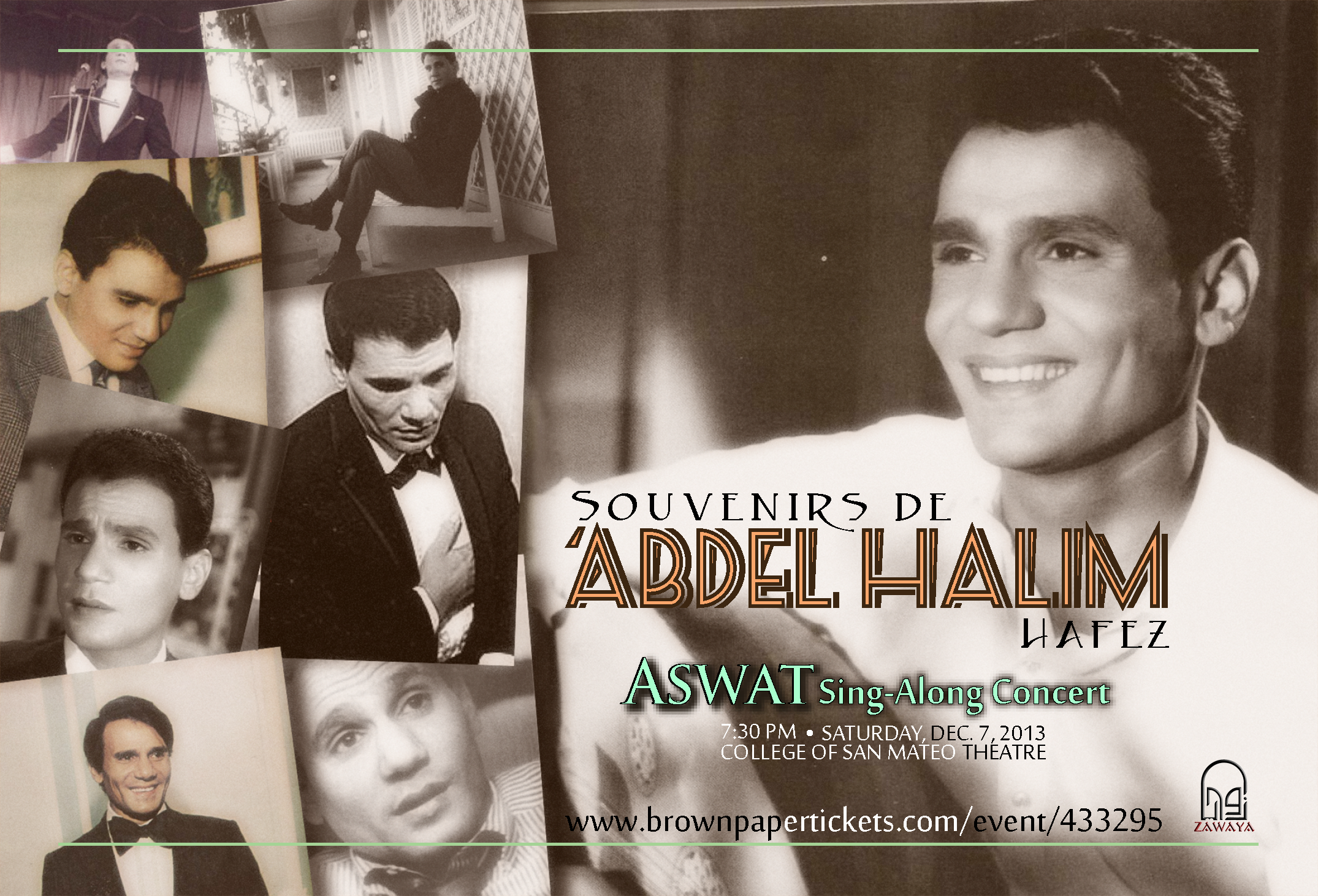 Singing is a great way to aid Arabic learning! Check out this Arabic sing-along concert. Lyrics are provided in a free print-at-home song book at this link: http://zawaya.org/site/?p=3296
---------------------------------------------------------------------------------------------------------------------- 
What: Concert: Souvenirs de 'Abdel Halim Hafez: An Aswat Sing-Along Concert 
Where: College of San Mateo Theatre Building 03, 1700 W Hillsdale Blvd., San Mateo, CA 94402 
When: Saturday, December 7, 2013, 7:30 - 9:30 p.m. 
Tickets: http://www.brownpapertickets.com/event/433295 
Website: http://www.zawaya.org 
Contact: Nabila Mango at [masked] or call[masked] 

Souvenirs de 'Abdel Halim Hafez: An Aswat Sing-Along Concert 

Aswat, the Bay Area's premier Arab music ensemble, features the music of the iconic 'Abdel Halim Hafez [masked]) in their first sing-along concert on Saturday, December 7, 2013, at the College of San Mateo Theatre from 7:30 – 9:30 p.m. 

'Abdel Halim is known in the Arab world as "Al Andaleeb Al Asmar"(The Great Dark-Skinned Nightingale), "The King of Arab Music", "The Voice of the People", "The Son of the Revolution", and "The King of Emotions and Feelings". Such titles are but a testament to the Arab world's affection and regard for 'Abdel Halim's contributions to Arab culture and music, and for the man himself. One might liken 'Abdel Halim's stature in the Arab world to Elvis Presley's in America. 'Abdel Halim passed away some 36 years ago, but his legacy endures. Anybody even just slightly acquainted with Arab music is familiar with 'Abdel Halim. 

Titled "Souvenirs de 'Abdel Halim Hafez", this concert is directed by esteemed conductor Fathi Aljarah, and will bring people together over Arab music in a way that has never been done before in the Bay Area Arab community. 

The concert will create a space in which we can celebrate the musical legacy of 'Abdel Halim with each other, and in unison. The result will be a memorable musical experience that will touch hearts with joy as much as sorrow, with pain as much as pleasure, and with love and longing.