I know Alan Haber still resides in Ann Arbor and is a really cool guy. 
If you're not familiar, Alan was and still is a major activist for workers rights and other middle-class struggles. He still dabbles in peace activism and whatnot. 
He is also a regular sight at Ann Arbor city council meetings and Washtenaw County board of commissioner meetings. 
I'm sure someone at
annarbor.com
, or Dave Haskins from 
the chronicle
 will help you get in contact with him. Or maybe even your contact at The Ann may know him. He's a pretty receptive guy and doesn't generally shy away from a little media attention as long as it's for a good cause.
If this is what/whom you're looking for, call me and I will relay you some more information. [masked]-7601.
Here is his photo: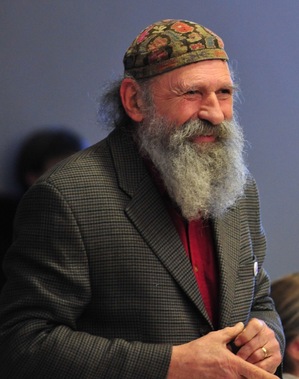 Best of luck.
-Wes


On Thu, Sep 8, 2011 at 7:01 AM, Ben Weatherston
<[address removed]>
wrote:
Hey everyone,
Sorry to "bug" you with such a strange request but I thought the Shutterbugs would know better than anybody. I'm looking for someone to model for a shoot on Friday evening (yeah, tomorrow). I need an authentic Ann Arbor activist. Modern day hippie. The more radical the better. I know I'm making huge generalities so apologies up front but I'm going to be contrasting him/her with a totally clean cut, "metro"-looking guy and asking the question, "Which one is Ann Arbor today?" This isn't really my concept, I'm shooting to accompany a story. My original photo idea is not shaping up because of the weather and I gotta go with Plan B (which I'm starting to like better anyways).
So if you know someone that really embodies all of the Ann Arbor Lefty rep, and looks the part, I need to know who they are ASAP.  Like today (yikes)! The time of the shoot is pretty flexible.
Thanks!
Ben

--
Benjamin Weatherston
Photo Studio Group
834A Phoenix Dr.
Ann Arbor, MI 48108
[masked]
www.photostudiogroup.com




--
Please Note: If you hit "REPLY", your message will be sent to everyone on this mailing list (Ann-Arbor-Shutterbugs-[address removed])
http://www.meetup.com/Ann-Arbor-Shutterbugs-Photography/
This message was sent by Ben Weatherston ([address removed]) from Ann Arbor Shutterbugs (Photography).
To learn more about Ben Weatherston, visit his/her member profile: http://www.meetup.com/Ann-Arbor-Shutterbugs-Photography/members/13761824/
To unsubscribe or to update your mailing list settings, click here: http://www.meetup.com/Ann-Arbor-Shutterbugs-Photography/settings/
Meetup, PO Box 4668 #37895 New York, New York[masked] | [address removed]