Please join Atlanta Art Meetup and Alcove Gallery for WaterCyles. Alcove Gallery is very proud to say they have officially been through an amazing trek. Seven is one of those numbers that really speaks for itself. On many levels it touches on a spritual note that cleanses ,strengthens, and possibly gives new life. Water has many of those similiar parallels to the properties of the 7 numerology.
Click here to RSVP for WaterCylces!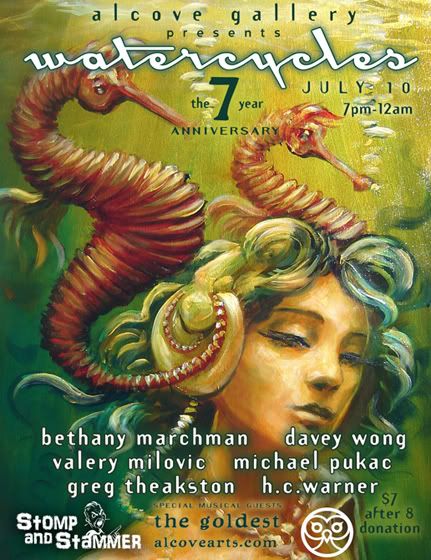 Water is the most abundant compound on Earth's surface, constituting about 70% of the planet's surface. Sadly, we have only one planet in which we must try to protect and cherish. This event focuses on the richness of water and really anything it should encounter.
Featured musical guests THE GOLDEST
LUNCHBOXES STILL AVAILABLE! These amazingly crafted original metal food vessels will be in an upcoming feature on ALCOVE on our very own PBA! Many of these beauties have outsides and insides with thermos. Truly the deal of the century and a rarity to take one of your favorite aritists to lunch. Seriously great deals!...if you would like to take a closer look or more details other than what is available online.
Posted and hosted by:
BombSheDevil, Dia Starr
Organizer, Atlanta Art Meetup
Follow me on Twitter!
Friend me on FaceBook!
Add me on Myspace!