EyeDrum Gallery: 7:00pm -2:00am
Do not miss the closing ceremony for this wondrous event "A Ceremony of Fire n Delight"
"Inspire, Incite, Ignite": This exhibit serves as a 10 year retrospective look into the instigated art world of Charlie Smith. It features curated works of experimental and fine art mashed with a the diverse fire and circus arts scene of the South East and beyond! Charlie brought the The Fleebor Flobber in from Texas just for the closing. It is a six person metal teeter totter with a Illuminated snow man in the center. It has been exhibited at Burning man and other large festivals.
The Art of Such n Such is a collaborative experiment. The Vision is to create an art space involving the viewer in a participatory way breaking the boundaries between the art, the artists and the participants whom enter the spaces. We love working together sharing our ideas and innovations while having fun and instigating artistic interaction. We push art to another level reaching for more of whats out there so come by to see and be part of our collaborative play ground.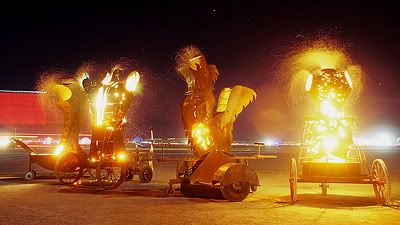 This will include a mass collective of visual and performance artists that will create a living flaming fiesta of sorts that will incorporate all of the local arts communities to celebrate together in an urban city center if ya get my drift....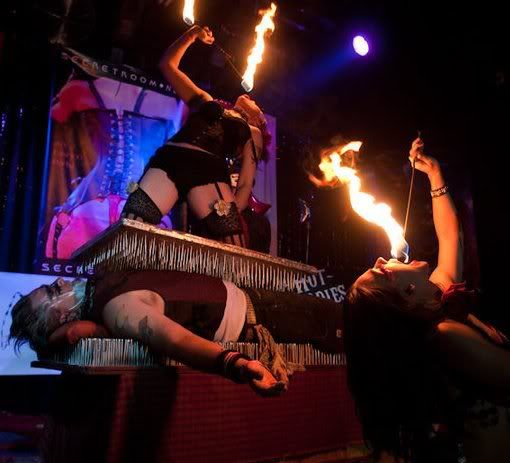 Artists Include:
Hot Toddies Flaming Cabaret
The Krew of the Grateful Gluttons
The Naughty Photo Booth
Barry Clement
Blair Classey
Bonnie Reiss
Cat Weasel
Charlie Smith
Cole Slaw
CSX
Danielle Jellykins
Daniel Watts
Dave Umlas
Derek Bambach
Dominique Vyborny
D. Coplan
Dr. Tim
Eli Reimen
Emerald Dove
Estaban
George Long
Gil Braum
Gordon Chandler
Grady Cousins
Gregor Smith
Holly Kruder
Jaime Ladet
James Abele
Jefry Loy
Jeffrey Johnson
Jeff Morgan
Jerry Smith
Jessica Marshall
Jimbo Barrows
Jim Thomas
Joe Martin
John Taylor
Jon Alloway
Josh Curry
Julie Gudmonson
Ken Smith
Lori Guarisco
Lala Masseur
Lady Bee
Lara Eastburn
Laurel Askue
Marilee Ratliff
Mario Schambon
Melissa Coffey
Melvin Ocasio
Moon Tiger
Nanette Johnson
Niel Carver
Patrick Berry
Rebecca Deshon
Ryan Mathern
Sadie Hawkins
Shannon Kelly
Scott Dupree Scott-O-Matic
Stephie Berry
Stephanie Redmond
Sugar Kayne
Syd klinge
Quito
Wil Albarez
Will Lawless
instigated by charlie smith
[IMG]
http://i17.photobucket.com/albums/b65/bombshedevil/Atlanta%20Art%20Meetup/bio2.jpg
[/IMG]
photo by Jerry Burns
www.howhowhow.com
www.artofsuchnsuch.com
http://vimeo.com/5593852
http://current.com/participate/vc2/76780052_such-n-such.htm
http://www.youtube.com/watch?v=-_QVLAAI-U4&feature=related
http://www.youtube.com/watch?v=QGKE1WiAn78
For more information about the gallery and such-[masked]
www.eyedrum.org