Announcing a new Meetup for The Atlanta Art Meetup Group!
What: 4th Friday Castleberry Hill Art Stroll & Dinner at No Mas Cantina
When: June 26,[masked]:00 PM
Where: No Mas Cantina
180 Walker St.
Atlanta, GA 30313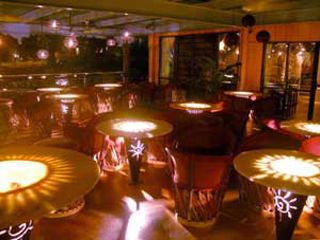 Atlanta is quickly becoming the next great place for art and no area is more alive with the arts than Castleberry Hill, Atlanta's historic arts district. Come stroll through Castleberry Hill during the next installment of the 4th Friday ArtStroll. Visit fascinating and diverse galleries and get a taste of what Atlanta has to offer. Neighborhood businesses and restaurants will be open and welcoming you to our little corner of Atlanta! Come have some dinner, buy some art and find your new loft or condo!
?Within a stone?s throw of downtown Atlanta, Castleberry Hill holds a wonderful mix of art galleries, boutique shops, restaurants and bars. It is a close knit community of art lovers and a way to get a real sense of Atlanta culture. More than twenty galleries showcase art from locals all around Atlanta. Wine, great conversation and an eclectic mix of people crowd the streets of the lower west side. You have to experience it for yourself every fourth Friday to get a taste of the creative side of Atlanta. Our dedicated ??.? Charles Park on Metromix.com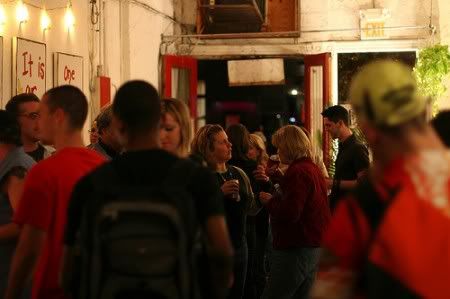 Creative Commons photo by Joel Mann
Join Atlanta Art Meetup for dinner at Atlanta's favorite Mexican restaurant in the hot new Castleberry Hill art district, No Mas! Cantina offers authentic flavors, luscious specialties, outrageous desserts, and seats 350 people. Join us for Happy Hour - daily drink specials Mon.-Thurs. A huge, open two-story with mezzanine space, full of light, richly decorated with handcrafted furnishings from No Mas! Hacienda next door, feels like you've been transported to a Mexican paradise. A warm, fun setting for intimate dinners or large parties, with the city's best outdoor patio - catering, too!
Click here to view No Mas Cantina's menu, prices, pictures, reviews, and map on Atlanta Citysearch.com
.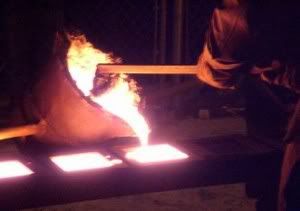 Iron pour at Elliot Street Pub.
Some Participating Galleries
ART HOUSE GALLERY - 309 Peters St. - [masked]
www.arthousecoop.com
"The Sketchbook Project" - Come flip through the pages of sketchbooks from artists all over the world. Also featuring the work of Emily Maxwell.
ART HOUSE OPEN SPACE - 304 Walker St. -[masked]
www.arthousecoop.com
Art House Presents Open Space - Featuring the work of over 5 local artists.
BESHARAT GALLERY - 175 Peters St. - [masked]
www.besharatgallery.com
Anthony Palliser
BIGHOUSE STUDIO - 211 Peters St. - [masked]
www.calvinlockwood.com
Stacy Shafritz - A new series of work - www.stacyshafritz.com
Nabil Mousa - Recent Works - www.mousafineart.com
CARTEL STUDIOS - 231 Peters St. -[masked]
www.cartelstudios.com
Photography Studio/Art Gallery
CASTLEBERRY POINT ARTIST MARKET & ATLANTA PHOTOGRAPHY EXHIBIT - 327 Nelson St -[masked]
www.facebook.com/event.php?eid=[masked]
Showcasing fine artists, jewelry designers and local craftsmen w/ Atlanta Photography Exhibit of works by local, emerging photographers. Artist Market in the courtyard, Atlanta Photography Exhibit in Unit 401 & 438, Wine served in Model Units on the 2nd and 3rd floors - Group Show, One Night Only!
CITY OF INK - 323 Walker St. - [masked]
www.thecityofink.com
ESCAPE GALLERY - 180 Walker St., [masked]
www.nomasatlanta.com
Featuring works of emerging Latino artists.
GALLERY STOKES - 261 Walker St., [masked]
www.gallerystokes.com
OffSet - Eric Mercer & Katie Waugh
Two Days Only! June 26th & 27th
GRANITE ROOM - 211 Peters Street,[masked]
www.graniteroom.com
Susan Ryles - FEMINUNDRUM - Recent Sculptural Works - www.susanryles.com
KRAUSE GALLERY - 291 Peters St., [masked]
www.krausegallery.com
5 Year Anniversary Show - Over a dozen artists!
Exhibition Dates: May 22 - June 24
THE SUNDAY PAPER: 2008 Readers' Choice Awards Winner for BEST ART GALLERY
Marcia Wood Gallery - 263 Walker Street,[masked]
www.marciawoodgallery.com
SUM
MER GUEST HOUSE - gallery artists invite regional artists for a summertime mixer!
Exhibition Dates: June 26 - August 1


Click here for a detailed list of participating galleries and businesses.




Click here to download a map of the local businesses to take with you on the Stroll!

Contact BombSheDevil/Dia Starr at [masked] the day of the event!

Learn more here:
http://art.meetup.com/236/calendar/10718997/