THE GOOD NEWS FROM GOD'S PEWS:

ADVANCE SCREENING MOVIE REVIEW:
Finally, A Movie About Mexicans the Whole Family Can Enjoy!
Beverly Hills Chihuahuas is a film that will educate and inform True Americans(TM) about the culture, mannerisms, and subtle deviance of the funny-talking, curious little servants the good Lord keeps blessing us with. More>

CHRISTIAN KIDS WANNA KNOW:
Pastor, Why Does My Penis Get So Hard?
Keep your eyes closed as much as possible, Reginald. You don't want to go to Hell, do you? Well, then stop looking at things! Godly Advice>
HOMOSEXUAL REPARATION MINISTRY NEWS UPDATE:

Emergency Biblical Marriage Regulations Are Again Fast-Tracked to President Bush!
In retaliation to secular (Satanic) courts in California deciding that homosexuals should have the same rights as the rest of us, the U.S. Department of Faith proposes emergency amendments to the Constitution! More>
NEW SITE FEATURE: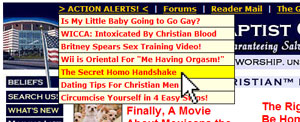 Landover Baptist's most e-mailed articles are updated weekly and now linked through an easy to use, mouse over drop down menu. Try it today by mousing over Action Alerts in the Landover Baptist hot links menu at the top of our Godly home page.
--------------------

Annual Landover Junior High School Vacation Bible Gun Camp 2008 Registration is Now Underway!
What is There to Do at Bible Gun Camp This Summer?
Apocalyptic wilderness survival training, Bible reading, Scripture memory contests, marksmanship competitions, Old testament wild deer and boar sacrifices, gun care and cleaning, manly fellowship, Bible skits, and evening super surprise game competitions where children use tranquilizer guns to hunt unsaved homeless people who are dropped into the mountains by helicopter. This year, our campers will also be visiting the ungodly children at Camp Quest (a secular summer camp for stupid sissies) for a drive by, "Get Your Feet Hot For Jesus" visitation. Bring your pistols for some old fashioned soul-winning shoot-em-up dusty foot devil dancin'! Click Here for More Details
--------------------

Pastor Deacon Fred: Now Podcasting In Video
Pastor Deacon Fred's YouTube Videos are so popular with the unsaved, that Jesus asked him to carefully eek them out and create brand new ones through his podcast & RSS.

Sister Betty Bowers: The No Sin Zone! Weekly updates from America's Best Christian! Political commentary and more! Read>

The May 2008 Mailbag E-mails sent to Pastor's inbox from citizens of the civilized world! Updated with May 2008 e-mail! Read & Weep!>
--------------------

LANDOVERBAPTIST.NET
Join the controversial interactive world of the Landover Baptist Church. Hone your rebuking skills, with thousands of other church members! Go!>