The spectacular end of the ancient Roman city of Pompeii, buried under the ashes of erupting Mount Vesuvius, was a favorite subject of early historical films. The 1926 silent movie Gli ultimi giorni di Pompei is based on the story line of Edward Bulwer-Lytton's popular novel The Last Days of Pompeii (1834). The sets of this visually lavish and, for its time, very expensive film include impressive architectural facades of public buildings and luxurious interiors of private houses. The wall paintings, furniture, and sculptural decoration are partly based on archaeological evidence.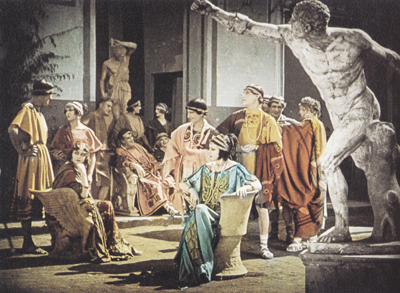 A rare print of Gli ultimi giorni di Pompei will be shown in conjunction with the lecture Images of the Doomed City: The Last Days of Pompeii in the Visual Imagination, by Adrian Stähli, Professor of Classical Archaeology, Department of the Classics, Harvard University. Stähli will give a short introduction to the movie. Print courtesy of the British Film Institute.
Linkhttp://www.harvardartmuseums.org/calendar/gli-ultimi-giorni-di-pompei-last-days-pompeiiwww.harvardartmuseums.org…
Sponsor: Harvard Art Museum
Museums Directed ByCarmine Gallone and Amleto Palermi
Cost: Free admission
The Carpenter Center is on Quincy St, right outside the Harvard Yard, and next to Fog museum under construction. We may go to dinner in Harvard Sq. if you are interested after the movie. Let me know if you have any preference of restaurant. What about 9 Taste Thai Cuisine at JFK?

Parking info: since it will be on Sunday, street parking maybe possible - try Cambridge St., Mass Ave., around Cambridge Common, Prescott St., Broadway, Oxford St., Kirkland St. Usually it would take a good 10 min walk from wherever you found a spot to the Center.