user 7799412
Group Organizer
Stow, OH
Post #: 871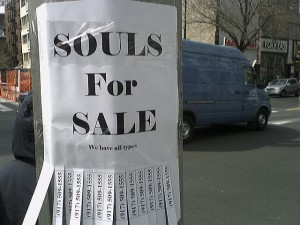 You would think that atheists would have no problem selling a non-existent commodity on the cheap but apparently it is not so. One Christian did however. I would do it, $50 sounds just fine.
Soul Possession: A
New Freakonomics Radio
Podcast
Hmmm, how many types are there?

user 7799412
Group Organizer
Stow, OH
Post #: 873
Reminds me of the fire in shoe factory, over 1000 soles were lost.