Dear members,
Just to remind you about what promises to be a fantastic event for the CLHG next Wednesday 19th -
Getting On
by the IceandFire theatre company. This play, which has seen the likes of the Almeida Theatre and Tobacco Factory theatre before coming to us, is being performed by professional actors for the bargain price of ?5!
We can only afford to do this is we know lots of members will attend. Could I therefore ask that you RSVP if you intend to come, so that we can get a good indication of numbers expected.
Please also tell your friends (you can share this link:
http://tinyurl.com/CLHG-play
)
Many thanks,
Alice
Programme Organiser, CLHG
--------------------------
Event page:
http://www.meetup.com/Central-London-Humanists/calendar/13308906
The CLHG is proud to present
Getting On
, a play exploring what it means to grow old in Britain today. Performed live by the iceandfire theatre company, the play uncovers some of the barriers encountered by older people everyday including forced retirement, social isolation, poverty and loss of dignity. It will suggest that no matter what age we feel, often its what's on our birth certificate that stands between us and our human rights.

?I never paid me council tax. The letters what used to come through the door, I never used to open them. I?ve got that, what do you call it, dyslexia. They sent the bailiffs. They shut the electric off, they shut the water off. Then I got myself to a point. Let?s put it this way. I looked at that river and I thought, yeah, I can do it. I weren?t afraid.?


We are very lucky that Sam Nicklin, Senior Campaigns Officer at Age UK (the new charity combining Age Concern and Helped the Aged), will introduce the play and take questions about the some of the issues raised in the play and the campaigns aimed at tackling them.


The event will start at 6.30pm. The performance will last about 50 minutes, and will be followed by audience Q&A. The event will end at 8pm, with discussion to follow in The Lord John Russell, our regular pub down the road from the venue.




The play, written by Sara Masters, was launched in March 2010 at the Almeida Theatre, London and the Tobacco Factory, Bristol. We are thrilled that the CLHG will be next in line to experience a performance that promises to be as sobering as it is exciting.



Why should humanists care about this?

As people who believe that we only have one life to live, humanists tend to think it?s important that all people are given the chance to flourish, fulfil their aspirations, maintain a dignified life and pursue happiness whilst they are alive. Non-believers don?t think there are any second chances in the form of an afterlife, so think people should be able to enjoy a good life all the way up until to the end. Perhaps motivated by this worldview, humanists have historically been on the forefront of human rights campaigns, including those tackling discrimination on the basis of age.

Or, humanists might care about this simply because they are human beings who, like everyone else, will one day get old and care about how society treats them!


"Why should we postpone our joy to another world? Let us get all we can of the good between the cradle and the grave, all that we can of the truly dramatic. If, when death comes, that is the end, we have at least made the best of this life." ? Robert Ingersoll, 1900

Is this a play about euthanasia?

No. One of the ethical issues often associated with old age and of particular interest to humanists is the right to choose an assisted death. Please note that this event is not about this issue specifically.



Is it at our usual venue?

No, well sort of. It?s in Canterbury Hall which we occasionally use, next door to Hughes Parry Hall. It?s downstairs in Conference Room, the hall with the stage. See below for more details.



Do I need to book in advance?

There is no need to book but we do ask that you RSVP on this page so we can get an idea of numbers attending.

You should also note that the suggested donation for this event will be ?5 (?3 concessions, or if you really can?t afford that the usual ?2). Half of the money collected will go to covering costs of the room, half to iceandfire who stage these performances free of charge around the country to raise awareness of human rights.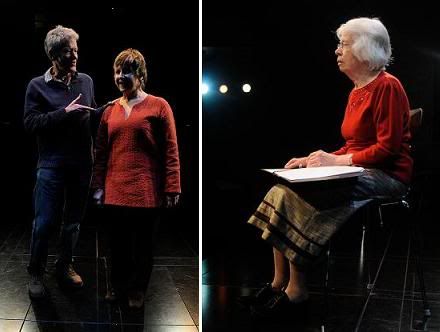 ______________________________________________________________________________________
About iceandfire
iceandfire explores human rights stories through performance. Getting On is performed by members of their national outreach network, Actors For Human Rights, made up of over 450 professional actors dedicated to drawing public attention to a range of contemporary human rights concerns. The actors and musicians involved volunteer their performance skills and public profile to encourage acceptance of human rights laws and principles and to give voice to people whose basic human rights have been violated.
You can read more about iceandfire here:
www.iceandfire.co.uk
______________________________________________________________________________________
About Age UK
The new force combining Age Concern and Help the Aged, Age UK is a national charity working to improve the lives of people in later life. It celebrates ageing and believes it presents unprecedented opportunities and challenges at home and abroad. The charity challenges ageist prejudice in society? provides services that address market failures and support the public and private sectors to design age-friendly products and services. It supports people to remain in their own homes through campaigning and practical services and its Information and Advice service offers millions of people support on a range of issues from claiming benefits to staying fit and healthy.
You can read more about Age UK and its various campaigns here:
www.ageconcern.org.uk
______________________________________________________________________________________
About the venue
The event will take place in Conference Room in the University of London Canterbury Hall. The Hall is located by Cartwright Gardens close to Russell Square in Bloomsbury. Note: This is the building next down to Hughes Parry Hall where most of our meetings are held.
Russell Square (Piccadilly Line), Kings Cross (Northern, Victoria, Piccadilly, Circle and Metropolitan Lines and Mainline Rail) and Euston Station (Victoria & Northern Lines and Mainline Rail) are all within walking distance of the venue.
A map can be found here:
http://www.halls.london.ac.uk/conference/garden/location.aspx
This venue is wheelchair accessible.
______________________________________________________________________________________
Cost and booking
Please RSVP to book your place using the function on the right hand side of this page.
The suggested donation for this event will be ?5 (?3 concessions). Half of this will go to covering costs of the room, half to iceandfire who stage these performances free of charge around the country to raise awareness of human rights.
___________________________________________________________________________________
This meeting is organised by
Alice
______________________________________________________________________________________
This event is also listed on
our Facebook page
- join us!