I've arranged a collection for

next Saturday 6th Feb

at Sloane Square Underground Station and need helpers to rattle tins. You can help for 30 minutes, 1 hour or more - any time you can offer from 7am onwards would be fantastic.

In addition to RSVP'ing here, please email me at

[address removed]

as soon as possible so I can organise a rota based on your preferred time slot

. I'll be on hand throughout the day to co-ordinate the collection.

If you have children bring them to help on the day - one member is already doing this - kids are a great at attracting donations, especially when they're cute and the charity is UNICEF! If you can't come, please spread the word (and my email address) to other groups, colleagues, friends and family.

This is our chance to contribute to global efforts to help a group of fellow humans in a time of great need - I hope you can be there.

----------------------

Location

Sloane Square underground station is on the Circle and District lines, and one stop away from Victoria (Victoria line) and South Kensington (Piccadilly line). It is a great spot for a collection since it is near countless shops, bars and restaurants which are seaming with people on Saturdays.

Endless thanks go to TFL who've given us permission to do the collection on their premises at what is quite short notice.

See street

here

. Plan your journey

here

.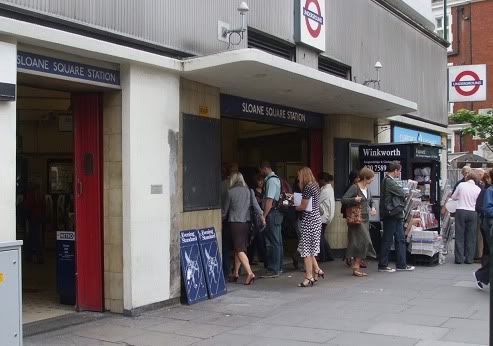 ----------------------
About the fund
Donations will go to UNICEF (United Nations International Children's Fund), a completely secular organisation who offer humanitarian aid in the form of emergency relief and development. The good folk at UNICEF UK are helping us to collect the money but all proceeds will go specifically to their International Haiti relief fund. You can find out more about UNICEF here:
http://www.unicef.org.uk/pages.asp?page=34
UNICEF's efforts to help Haiti:
A devastating earthquake measuring 7.0 on the Richter scale has struck Haiti causing an unfolding humanitarian crisis. Children have been killed and injured ? many are in desperate need of clean water, shelter and medical help. Early reports indicate a large number of casualties and widespread damage.

We?ve sent emergency teams from around the region to help and UNICEF aid is getting through, providing clean water, preventing disease and saving lives. However more supplies are urgently needed.

The situation for Haiti was already difficult before the earthquake hit the island. Haiti is the one of the poorest countries in the world and is struggling to recover from years of violence, insecurity and massive natural disasters. More than half of the country's 9.6 million inhabitants are under 21 years of age.

All children have rights ? these are most at risk of being denied in emergencies. UNICEF is working to ensure that the rights of children affected in Haiti are not forgotten.
More info and to donate online:
http://www.unicef.org.uk/give/index.asp?page=32