UPDATE: PASSES ARE GONE but check the link occasionally since often more are released.
-----------------
Grab a friend, check it out, and then tell us how it was!
 BE A MOVIE CRITIC - FREE MOVIE SCREENING
 Fruitvale Station
Synopsis: This is the true story of Oscar, a 22-year-old Bay Area resident who wakes up on the morning of December 31, 2008 and feels something in the air. Not sure what it is,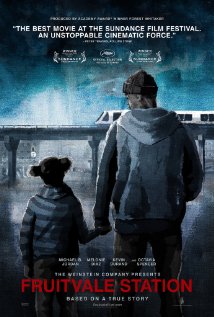 he takes it as a sign to get a head start on his resolutions: being a better son to his mother, whose birthday falls on New Year's Eve, being a better partner to his girlfriend, who he hasn't been completely honest with as of late, and being a better father to T, their beautiful 4-year-old daughter. He starts out well, but as the day goes on, he realizes that change is not going to come easy. He crosses paths with friends, family, and strangers, each exchange showing us that there is much more to Oscar than meets the eye. But it would be his final encounter of the day, with police officers at the Fruitvale BART station that would shake the Bay Area to its very core, and cause the entire nation to be witnesses to the story of Oscar Grant.
Release Date: Opens in Theaters Friday, July 26, 2013
Rating: NR: Not Rated
Special introduction and Q&A with Michael B. Jordan, Octavia Spencer and Director Ryan Coogler


   HOW TO ATTEND
RSVP YES include any guest/s

GRAB FREE PASSES >> CLICK HERE <<

POST A COMMENT (bottom of this page)
If you wish to sit with other members, who may be attending. Use the comment section, to work out the details as to where to exactly meet, what you will be wearing, time, etc.
Remember to check back.

PRINT and BRING your passes.

ARRIVE EARLY TO SNAG SEATS.
Fruitvale Station
Date: Monday July 01, 2013
Time: 8:00 PM
Location: Chicago, IL

REVIEW THE MOVIE and let others know your opinion!
    
    KNOW BEFORE YOU GO
PUBLIC EVENT -

NO

Meetup Host.
SEATS are

NOT

guaranteed, show up early.
 
    HOW TO GET THERE
RTA TRIP PLANNER (CTA, Metra, and Pace buses and trains) that include driving, biking, and walking directions.)
METRA TRAIN > click here for Metra map <
CARPOOL Share Ga$/Parking and make new friends. In the comment section below, post your starting point and if driver or passenger. Drivers - post how many you can take. Then contact one another to work out the details.
PARKING www.spothero.com

Have a great time!

 

WAIVER OF LIABILITY Bucket List Group, it's organizers, assistant organizers, and event organizers /hosts cannot be held responsible for any accident, injuries or personal property losses sustained leading up to, during, or after an event. If you sign up and attend this event, you are acknowledging that you freely and voluntarily assume all risks and damages and agree to participate in this event. When you join this event, you understand that we do not have leaders, tour guides, instructors, or experts. To describe and post an event does not constitute nor should it convey any guarantee of safety nor the assumption of liability. To organize is to assemble details, disseminate information, and provide a bit of cohesion to an event by being the single point of contact for the participants. We do not provide any service nor do we tell you what to do. If you choose to ignore suggestions and recommendations posted you are well within your rights to do so.

See all upcoming Bucket List Adventure Meetups →