Hey all you Awesome Aspiring Writers !!!!
We have been on a bit of a roller coaster with Venues since we started back in January of this year and I really want to find a place that we can count on to take care of us.
~Home Brew Coffee which was an AMAZINGLY PERFECT Venue completely closed down
~IHOP hasn't been very reliable lately
they couldn't have us a week ago on July 15th and now they can't accommodate us this next Thursday July 29th and I believe the Saturday afternoon group is getting way to big for the little IHOP conference room.
~The Ontario Library ROCKS !
but there are some people that can not drive that far to get to a meeting
One of the plus factors of the Library is that we don't have to buy food to be there but it does close at 9pm sharp. Our Monday Meet Ups will stay at the Ontario Library for sure. There is a possibility that if we do find a venue to replace IHOP, we might not need the 2nd Thursday at the library unless there are members that prefer to meet over there. We could possible have two different groups going on at the same time Thursday nights as well ~that's always an option.
I actually spent 5 hours today talking to different venue managers & driving around San Dimas & the surrounding areas searching for a new venue for us ..... and I think I found us an AWESOME place
Hamilton's Steak House
1211 East Garvey Street
Covina, CA 91724
[masked]
it's connected to the Radisson Suites Hotel in Covina ~ right off the Holt exit on the 10 freeway
it is 9 minutes (7.03 miles) from IHOP in San Dimas ~ by freeway
it is 10 minutes (5.36 miles) from IHOP in San Dimas ~ by side streets
here are pictures of the "Library Room" they can book us in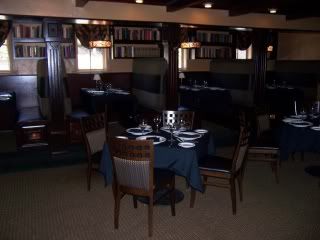 **they have the same rule as IHOP ~ they will give us the room for FREE the days & times we want (Thursday evenings & Saturday afternoons) as long as EVERYONE orders something to eat ~ they will have a special menu just for us & $15.00 per person will include the meal, a drink, tax & the tip. Only coffee & ice teas are free refills. They also have a full bar in the restaurant area, so I might be turning in my cup of joe for a glass of merlot
It is very important that we hold our end of the bargain and spend the $15.00 per person per meeting.
**$20 Hamilton's Steak House gift cards will be one of the prizes you can choose from if you win the Monday Night Writer's Prompt Competition.
**They will give us individual checks for our meals (which I found is hard to come by)
**They will set the tables up for us anyway we want (no more playing musical tables before each meeting)
**There is access to FREE Wi Fi
**The "Library Room" is clean & cool (there are no little gnats flying around that we all get annoyed with, the chairs & tables are clean & we won't have to worry about the air conditioner being turned off on us). The atmosphere is very cozy & classy. I love the tablecloths & the ambiance.
**In the event that Hamilton Steak House has already reserved the "Library Room" out on a day that we need it, they won't leave us high & dry and kick us to the curb, they will put us up in one of there banquet rooms with no extra charge. So our meetings can go along as scheduled a least at the same address.
SO WHAT DO YOU THINK ??? I did a lot of leg work today & asking questions & shaking hands
please please please please just take a second & share your thoughts with me either by returning this email or sharing in the discussion of this in the message boards asap ! it would really mean a lot to me & the group ! thank you ! we need to make a decision before next Thursdays meet up so we have a venue for it !!!!!
If any of you have an idea for a new venue or would like to donate your house for the meetings that is always an option too !
looking forward to seeing you at the next meet up !
~christine marie aka depodol
CHWG website admin
[masked]