This morning, we had breakfast at
Over Easy
. It's located at 28A S. Tejon Street, downtown, and open everyday from 7a.m to 2 p.m. I have to give Sarah credit for telling me about their breakfast quinoa, which prompted us to check them out almost immediately. If you're vegetarian, you'll find plenty. If you are vegan, the options are limited but very good. Plus, don't be alarmed, but you'll be staring at eggs and bacon creatively made into smiley faces on their shirts.
Our server was patient and helpful. I learned a lot about their menu by asking her many questions. She commented that she has now learned a lot about vegan options as well. Initially, she felt the quinoa would be our only choice. However, she came back and suggested the breakfast burrito, substituted with tofu and/or mushrooms for the meat, eggs and cheese. She was confident it would taste great and be 'doable' for the kitchen. In addition, it comes stuffed with peppers, onion, and black beans. You will need to request the veggies and hash browns to be cooked in oil and not butter. This will take a few minutes longer but, it's worth the wait. After a little confusion about the black beans being vegan, it was confirmed that they are. We had them put both chile sauces on the side. They were excellent, but I particularly liked the red. It was mild and tasty and reminded me of Taco Bell's mild sauce but thicker. The green is tasty as well but much spicier.
In addition to the burrito, we quickly ordered the breakfast quinoa. It's cooked in coconut milk and topped with fresh berries and walnuts. You can easily omit the honey to make it vegan, as it is drizzled on top and not cooked into the quinoa. It's served warm and the portion size is just right. If you are looking for a protein packed 'hot cereal' before or after a morning hike, ride, or run or to try something more power packed than oatmeal, then this is the perfect meal!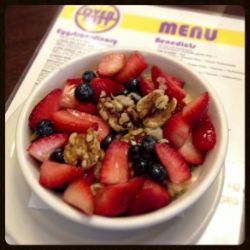 They do offer a tofu scramble, but it's difficult to make it vegan. The tofu acts as a meat replacer, not an egg replacer, so there is still egg in this dish. However, it's an option for vegetarians.
They also have a tomato basil soup. Due to its yogurt base, it's suitable for vegetarians.
Lastly, they offer a strawberry and apple salad. It is made with goat cheese but it can easily be omitted to make vegan. The chipotle cherry vinaigrette and balsamic drizzle are vegan as well.
As we all know, vegan breakfast food is hard to get in Colorado Springs. Oatmeal is often the only item one can find. Thanks to JL and the new additions at the Cliff House and to Sarah for mentioning Over Easy, we now have a little variety! Plus, I cannot tell you how extremely happy I am to see quinoa over oatmeal! YAY!