Let's meet for brunch and bling. Please specify a brunch item to bring for all to enjoy. Once we are closer to the date and we have an idea who is attending, we can fine tune what foods and drinks are needed. The exact address will be emailed to those attending as we get closer to the date.
Along with brunch, we'll be shopping for Bling. Susan's friend, Lorraine, is a sales consultant for Touchstone Crystal by Swarovski.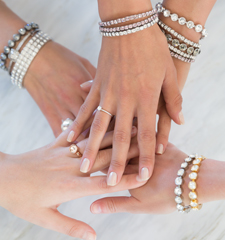 120 years and growing…Swarovski continues to add sparkle to people's lives with Touchstone Crystal, their fastest-growing social selling business. Backed by our strong heritage and quality reputation, Touchstone Crystal brings the magic of Swarovski crystal directly to women's doorsteps.

From the runway to your doorway…As seen on the runway, the red carpet, and the silver screen, Swarovski crystal transforms everything it touches.
http://www.touchstonecrystal.com/regional/ourjewelry
Brunch
• Marla - Charlie Bird's Faro Salad
• Diane - Quiche or Salad
• Cynthia - Muffins
• Sandy - Blintz Souffle
• Martha - Fruit
• Judi - Frittata
• Sharon - Lemon Pound Cake
• Arlene - Mimosas
• Lynette - Quiche