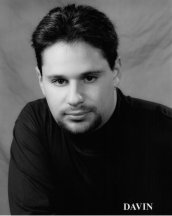 April 18 - 19 - 20 MC, Special Guest, Headliner Davin Rosenblatt New York based comedian Davin has been entertaining audiences throughout the country for several years. His likeable, yet confident, style leaves audiences wanting more of his unique perspective of being Jewish in our society. "He is not your stereotypical mild-mannered Jewish comic. He is bold, full of confidence, and in complete control of the audience and the stage," raved one prominent New York comedy club manager. Being Jewish is just a part of this comic's routine as he has experienced many things that his audiences have and a few that nobody should ever experience. Either way, his enthusiasm and love of the craft will leave everybody sharing in his life.

Guinness World Record for World's Longest Non-Stop Comedy Show.
Over 25 years in business.
A host of shows from both locally and well known comedians.
Convenient showtimes throughout the week and weekends.
Great activity for a group of friends!
They say one of the best ab-workouts is a bellyaching chuckle, so if you've been skipping out on the gym, it might be time to still get a little exercise-in laughing form.
Offering a casual and energetic atmosphere, complete with care-free dress code rules and the promise to get you chuckling, The Comedy Factory offers a large variety of professional comic shows on Fridays and Saturdays every month. Today's deal gets you four tickets to a hilariously entertaining Comedy Factory show, perfect for a night out with a friend or an alternative to those same ol' dinner and a movie dates! Shows change each week and run around 2-hours long, but not to worry, tasty snack foods as well as full bar service is available throughout the duration of a show. Celebrating over 25 years and boasting unique awards including the Guinness World Record for World's Longest Non-Stop Comedy Show, The Comedy Factory believes in entertaining the crowds with more than just simple jokes. Other great show offerings include professional hypnotists, magic shows, illusionists, variety acts, ventriloquists and impressionists!