Tp reserve your spot for the Düsseldorf Christmas Market trip, please click here to visit our official website www.expatclub.org. You can show that you're going by RSVíng on Meetup too, but it is not an actual registration.
PLEASE CLICK HERE TO RESERVE YOUR SPOT >>

Lets go on a daytrip to one of Germany's nicest cities, Düsseldorf. The history of the capital of North Rhine-Westphalia goes back to the 7th and 8th century, when some settlements were built along the Rhine river, right where the Düssel river ends. The other half of its name "dorf" means "village", but nowadays it's one of the largest and also most prosperous cities in the country with a population of 600,000 and over 1 million in the metropolitan area.
Our luxury double deck bus
We leave in the morning from Place Schuman by 4* luxury double-deck coach, with DVD and flat screen TVs, on-board toilet, mini-bar, extra reclining seats, and extra leg space with foot rests. After about 2,5 hours of driving, including a short stop to stretch our legs and get a coffee, we arrive in Düsseldorf.
PLEASE CLICK HERE TO RESERVE YOUR SPOT >>
Upon arrival we immediately meet with several official Düsseldorf guides who take us on a 1,5 hours long city tour, and in particular the Altstadt (the old town). We'll learn all about the city's history, challenges and population! This is a great way to get to know the city and to also meet with other people in our group.

Right after the city walk we have lunch in a famous local restaurant, Zum Schiffchen. You don't have to worry about finding this place because your guide will drop you right in front of the entrance. This "Brauhaus" is famous for its sumptuous meals and quick service. The prices are more than affordable. We inform you in the bus about the various options so you can choose and be served quickly. You would have to register for this lunch during the checkout.
PLEASE CLICK HERE TO RESERVE YOUR SPOT >>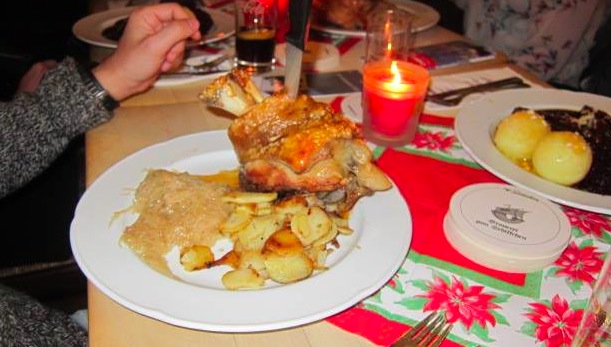 The famous Schinken-Schweinehaxe "Zum Schiffchen" mit Sauerkraut und Bratkartoffeln.
It's not a coincidence we travel on this particular Sunday in December, as it is the only day the shops are open (from 13h00 until 18h00). So if you want to spend your afternoon looking for some nice things to wear during the upcoming Christmas and New Year's parties, you are at the right address. Düsseldorf is namely known for the most expensive shopping street in Germany, the famous and beautiful Königsallee.
PLEASE CLICK HERE TO RESERVE YOUR SPOT >>
For those who would like to explore the city a bit more, before heading for the Christmas market(s) in the late afternoon, we will go check out the architectural masterpieces of the Medienhafen district. The modernisation of the harbour area and its many old dilapidated warehouses was done by famous architects such as Frank O. Ghery and Claude Vasconi. Currently it is a hot place to be and therefore hundreds of companies have moved into the new and renovated buildings. As you can see on the picture, we could also go up the 240 meter high Rheinturm to get a spectacular view of the city below (optional, but highly recommended).

© Expat Club | We meet for Glühwein at the end of the day.
It's one of the shortest days of the year. In fact the sun rises 1 minute after we depart Brussels at 08h27 and already sets at 16h25. This means the Christmas lights will take over and spread a wonderful atmosphere all over town. We can't control the weather, but of course it would be great if there is also some snow.
PLEASE CLICK HERE TO RESERVE YOUR SPOT >>

The final hours of the day we therefore spend strolling along hundreds of Christmas market stands. Düsseldorf has at least five different market areas in the centre, each with its own character. You will receive a city map so you can easily find them. This market is often called the nicest one in the country, so it guarantees we'll go back with great memories.

PLEASE CLICK HERE TO RESERVE YOUR SPOT >>

We will depart for Brussels again at 18h30 and arrive around 21h00. This trip is a great way to meet new friends in a relaxed way. Enjoy a beautiful day in a new place while doing fun things.