To reserve your spot for Trier Roman Christmas, please click here to visit our official website www.expatclub.org. You cannot register on Meetup, although you are of course more than welcome to click on RSVP to show that you're joining us.
PLEASE CLICK HERE TO RESERVE YOUR SPOT >>
Today we travel to the beautiful old German city Trier and visit the lovely Christmas markets between the many traces of the Roman empire and medieval times. Trier is really amazing as it boosts not less than a whopping 8 UNESCO World Heritage sites! We enjoy a 2-hour in-depth guided tour through the city's 2000 year's history, explore the Karl-Marx birth house and/or the superb Rheinishes Landesmuseum Trier (full of Roman treasures), and of course visit the many Christmas markets stalls.
We leave around 8h00 from Place Schuman by comfortable 4* luxury coach with on-board toilet, bar, AC, DVD and personal flatscreen TVs, so all you have to do is sit back in your reclining seat, relax and enjoy the ride. Of course you can sleep in a bit on the comfort chairs. During the trip you will be served complimentary drinks and snacks. The route takes us towards Liège, Spa and then into Germany over the panoramic E42 highway. We stop once to stretch our legs and a quick restroom visit and arrive in Trier around 11h15.
PLEASE CLICK HERE TO RESERVE YOUR SPOT >>

The famous Porta Nigra | © maartenhoek - Fotolia.com
With over 105,000 inhabitants, Trier only shows up on number 75 of the list of Germany's largest cities. Yet, on the list of oldest German cities it takes the top position! Indeed, Trier is the oldest town with continuous habitation dating back all the way to the Roman Empire. Being established as Augusta Treverorum in 16 B.C. its most important sights are the Porta Nigra, a superbly preserved Roman city gate, several Roman baths, a Roman amphitheater, an enormous basilica and a impressive cathedral. No wonder it's a tourist hotspot.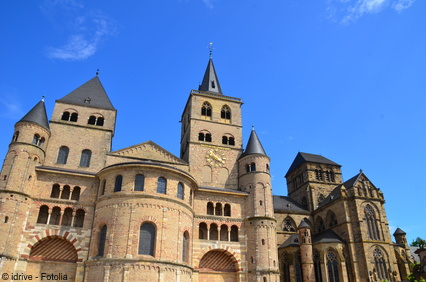 The Trier Cathedral (Dom) | © idrive - Fotolia.com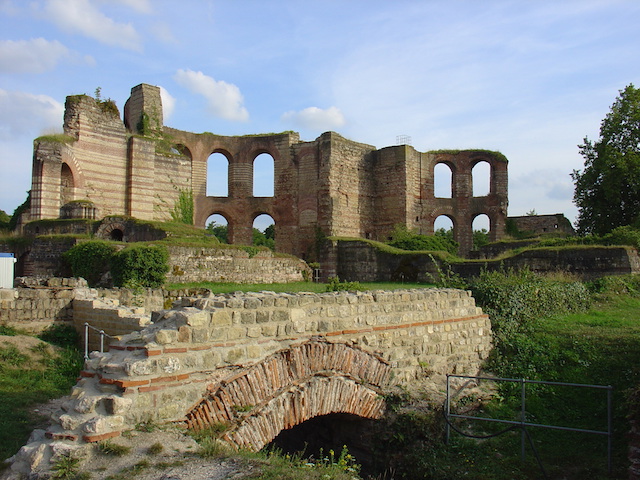 Kaiserthermen | © Trier Tourist Office
PLEASE CLICK HERE TO RESERVE YOUR SPOT >>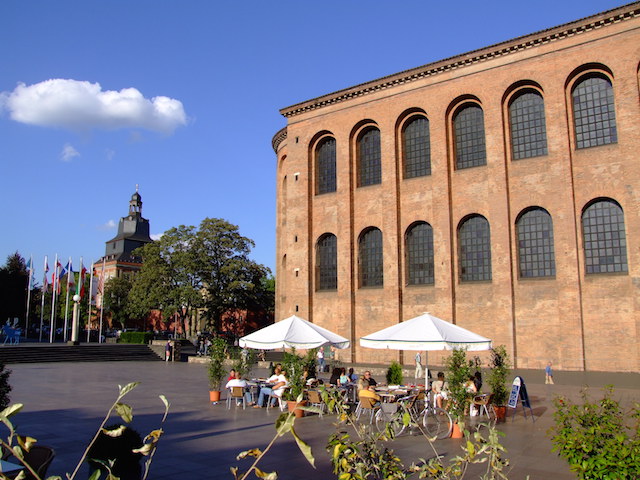 Basilic with its stunning ceiling | © Trier Tourist Office
The Roman Amfitheater | © Petair - Fotolia.com
Upon arrival we are welcomed by two official guides, who share with us the 2.000+ year history of Trier and take us along the most prominent sites. We start at the Porta Nigra, but of course walk along each of the earlier mentioned monuments. The guided tour ends right in heart of the center of town where there are plenty of lunch opportunities, from quick sandwich shops to restaurants that serve traditional local (Roman) dishes.
PLEASE CLICK HERE TO RESERVE YOUR SPOT >>

Birth house Karl Marx | © Rotislav Ageev - Fotolia.com
In the afternoon there are plenty of things to see and do before seeing the Christmas markets and enjoying all the German delicacies. The Karl Marx house is a favourite, and so is the fascinating Rheinishes Landesmuseum Trier, where you can dive even deeper into the Roman history of this region. When you have enough of ancient culture, architecture, stories and artefacts, then you know it's time to head over to one or all of the Christmas markets. Since a picture says a thousand words, can you see yourself having a good time here?
PLEASE CLICK HERE TO RESERVE YOUR SPOT >>
© Trier Christmas Markets
© Trier Christmas Markets
© Trier Christmas Markets
Needless to say that we meet again as a group (optional) at a Glühwein stand to enjoy some nice mulled wine and other. We depart again around 20h30, so you will have plenty of time to checkout the entire city and all its Christmas markets. On the way back we dim the lights so you can enjoy the ride and rest a bit. Our scheduled arrival time is around 23h45.
PLEASE CLICK HERE TO RESERVE YOUR SPOT >>