Doors don't actually open until 7pm but you may need to be earlier than 6:30pm
Neptune Theatre Presents
Theatre New Brunswick's Production of
The Boat
By Alistair MacLeod
Adapted by Ryan Griffith
The decision between adding to and breaking the chain of a Maritime tradition.
Adapted from the short story by Alistair MacLeod, The Boat is told from the perspective of a boy living in a small Cape Breton fishing village in the 1940's. As the only son of his parents' seven children, he watches as his sisters gradually abandon the house for education and romance in the cities, leaving him uncertain of his own life choices. Against his father's wishes, he quits school to "remain with him as long as he lives and… fish the seas together." When his father dies, he must choose between an education and staying in the fishing business to support his family.
Admission is by donation, cash only, and there is no advance ticketing. Numbers are distributed to patrons waiting in line to ensure fairness (maximum two numbers per person. Numbers do not guarantee entry.) Doors open at 7:00pm for 7:30pm performance start. There is no assigned seating. The maximum capacity of Fountain Hall is 479 seats. The maximum capacity of the Scotiabank Studio Theatre is 168 seats.
Other Pay-what-you-can performances: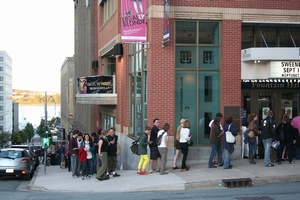 Fountain Hall Series:
Once – April 4, 2017
Scotiabank Stage Series:
ART – May 9, 2017