We have about 1 day away until the Comedian Showcase & Concert but I wanted to make sure the "FREE COMEDY IN DMV" Group had priority seating at the venue. If you are attending please RSVP so I can get an approximate head count. Central Avenue where the venue is located is about 2 minutes from the Home Depot in Capitol Heights right before you get to the 495 exit. Food and drinks can be purchased during the show event (March 10, 2012). I will repost that link as we get closer to the date. The cost is a whooping FREE!!. If you have any questions please email us at
info@agapesoulnation.com
­
with your name, questions or concerns. This is a great location for newbies, experienced comedians & poets, singers and comedians. I look forward to meeting you all for a great night of comedy and entertainment.
Khari Harrigan
COMEDIAN SHOWCASE & CONCERT
11 PLUS Comedians & 11 Vocalists All Very Talented Performers
RSVP NOW:
ASNComedyShow.Eventbrite.com
­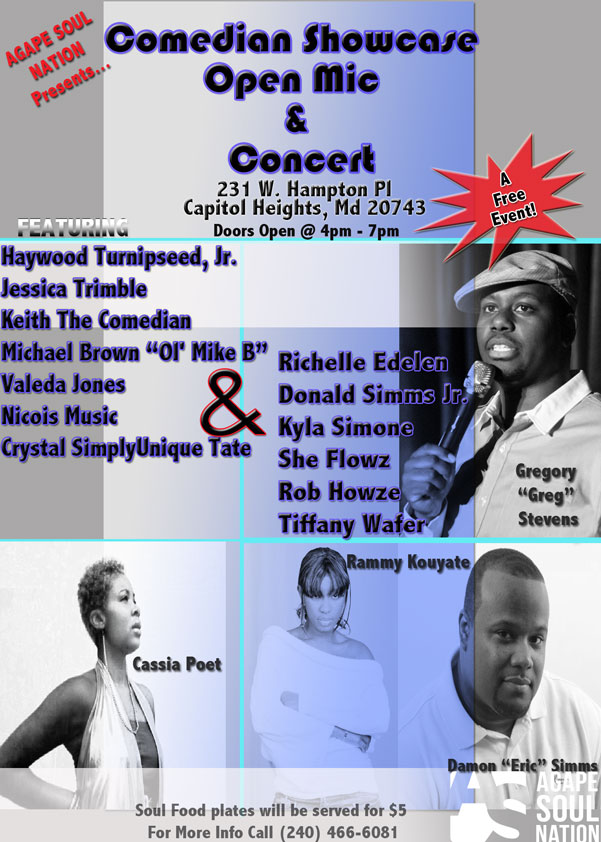 You're Invited ToLAUGH, LOVE, & Be ENTERTAINED!!COME OUT AND ENJOY DMV's COMEDIANS SINGERSASN "DJ Freeze" SPOKEN WORD ARTISTS MUSICIANS Plus MORE!!IT'S ABSOLUTELY FREEREGISTER NOW!!!