Free Range Ukulele Society of Oak Park Pages
If you are a member you'll want to go to the Song-sheet Packet for the Next Meetup page to see what packet we will be using, and to download it if you don't already have a copy to bring. And in any case please RSVP to help the organizers to determine how many printed copies to bring.


There is something magical about having our meetings at the
Eastgate Café
. The Free Range Ukulele Society of Oak Park is very fortunate to have this venue.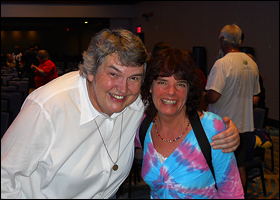 This is WXRT 93.1 DJ
Terri Hemmert
and Chris McIntosh at the 2013 Fest for Beatles Fans soon after Chris got off stage after leading the Harrison Street Ukulele Players at their annual appearance in the Battle of the Beatles Bands. Chris is a long-time fan of Terri's and has been listening to XRT before they began broadcasting 24 hours a day.