Please join us as we discuss the books we love. This month we're exploring historical romance and romantic suspense -- a little for both sides of the group.
First up is WAKING UP WITH A RAKE by Connie Mason and Mia Marlowe.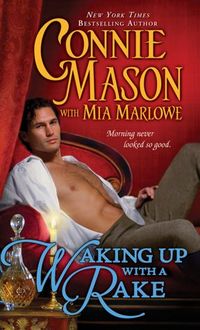 The Fate of England's Monarchy Is In The Hands of Three Notorious Rakes.
To prevent three royal dukes from marrying their way onto the throne, heroic, selfless agents for the crown will be dispatched...to seduce the dukes' intended brides. These wickedly debauched rakes will rumple sheets and cause a scandal. But they just might fall into their own trap...
After he's blamed for a botched assignment during war, former cavalry officer Rhys Warrick turns his back on "honor." He spends his nights in brothels doing his best to live down to the expectations of his disapproving family. But one last mission could restore the reputation he's so thoroughly sullied. All he has to do is seduce and ruin Miss Olivia Symon and his military record will be cleared. For a man with Rhys's reputation, ravishing the delectably innocent miss should be easy. But Olivia's honesty and bold curiosity stir more than Rhys's desire. Suddenly the heart he thought he left on the battlefield is about to surrender...
Second, in the series by San Antonio author Laura Griffin is a fast-paced suspense SCORCHED.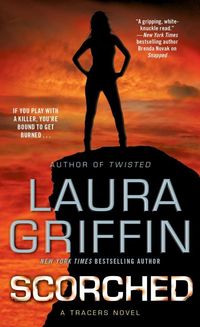 Kelsey Quinn has traveled the world unearthing heartbreaking secrets, but nothing prepares her for the trauma of her latest discovery. While on a dig in the Philippines, the forensic anthropologist uncovers a set of human remains, touching off a chain of deadly events back on American soil. After a terrifying attack, Kelsey goes into hiding while she tries to unravel the mystery of two seemingly unconnected murders. The odds are stacked against her, but Kelsey has the help of her colleagues at the Delphi Center crime lab…and the unexpected protection of the only man she ever loved.
Navy SEAL Gage Brewer knows his relationship with Kelsey is over and done. But when he learns she's being targeted by a killer, he risks everything—including his career as a spec ops warrior—to keep her safe. Gage tracks down Kelsey and believes he's accomplished his goal. But as the threats against her escalate, it becomes clear that the enemy they're fighting is more lethal than anyone ever imagined. And their most dangerous mission is only beginning.