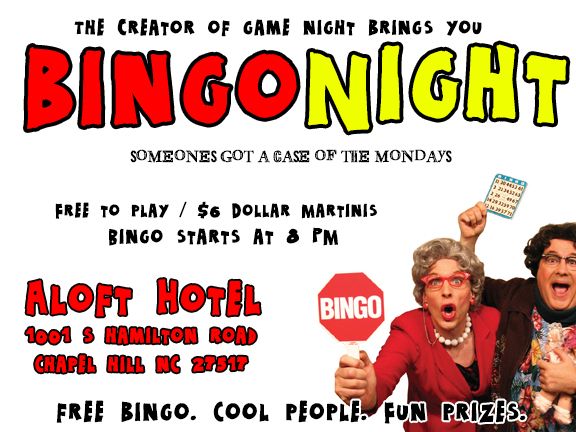 Manic Monday Bingo Night - Proud Home of the Bingo Night "Danceoff"
Manic Monday Bingo Night is a super fun event brought to you by Master Dater Events and the Aloft Hotel. And the event is hosted by yours truly - that's right - me, Erin! It's a super low key event designed as a fun way to meet new people - and win some free stuff in the process! This is a great event for people who are new in town, new to meetup or just wanting something to do to get out of the house!

Details:

I would suggest arriving at the Aloft hotel by 7:45 PM to grab a comfy seat. When you arrive, the Aloft Hotel has instructed us that you will need to park at the SECU building across the street.

Bingo will begin promptly at 8 PM and is absolutely free to play. There will be ten rounds of Traditional Style Bingo (you will get one bingo card per round), followed by the special "video" round - so that gives you 11 chances to win a fun prize. Of course, the grand prize for winning the video round is an overnight stay at the Aloft Hotel! Woot!
Alright folks, that about does it - looking forward to our next event! YAY!
<3 Erin
**Because of this event's popularity, please note that this event has been cross-posted to give more people a chance to attend. To avoid multiple emails about this event in the future, please RSVP either 'Yes' or 'No'**