CRNRA - Frog Frolic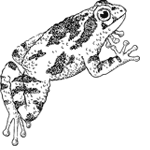 This is a FAMILY / KID FRIENDLY Program
This is a CRNRA program, NOT a GAG event. You MUST REGISTER with CRNRA to attend these events. Your RSVP on this page is meaningless, you have to call and register.
CRNRA - Sope Creek

Location: 3760 Paper Mill Road SE, Marietta, GA 30067
| Map
Time: 8:00 PM to 10:00 PM
Fee Information: A current $3 Daily Park Pass, Annual Park Pass, or an America the Beautiful Pass is required!
Contact Name: Island Ford Visitor Center
Contact Phone Number:[masked]
A great adventure for the entire family awaits you at the Sope Creek area of the Chattahoochee River. Listen to stories and sing songs around a campfire while roasting marshmallows.
Join a guided night hike, looking and listening for frolicking frogs and other nocturnal wildlife sights and sounds along the trail around Sibley Pond.
Dress for the weather; wear sturdy walking shoes and bring a jacket. Don't forget drinking water, insect repellent, and your flashlight!
Note: The $3 Daily Park Pass is not required for vehicles displaying a current Annual Park Pass or an America the Beautiful Pass!
Reservations are required; please call[masked] to make your reservation, space is limited!
Background sound of Peeper Frogs