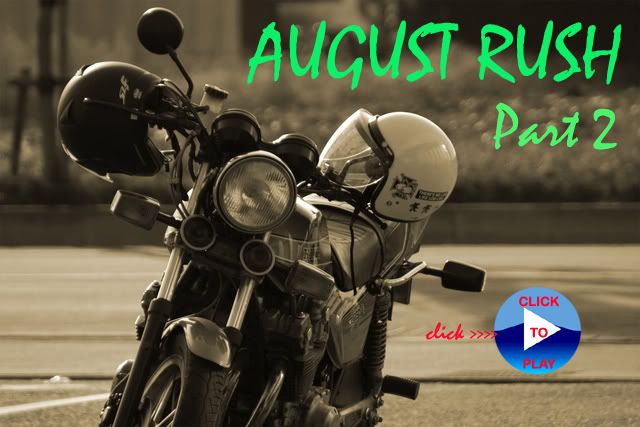 AUGUST RUSH - Part 2: Lake Berryessa - Calistoga - Marin Loop
(click on photo above for video from the August Rush 2012)

• When: Sunday 8/11/13, Arrive by 9:30 AM,  KSU 9:45 AM
• Where: Meet at  Union 76 at 23007 Arnold Dr - corner of Arnold Dr (Hwy 121) and Hwy 116.  It's 6 miles North of Sonoma Raceway. (KSU promptly @ 9:45 AM.  There 's a Deli next door for snacks, drinks, etc.) - once you are fueled up and had coffee, STAGE at Park-n-Ride parking across the street (map link = http://goo.gl/cpNpv8)
• Pace: Not too slow.  Not too fast.  Just right.
• Gear: Head to toe.
• Motorcycle: Yes, please bring it with you ;-)
• Route: ~  Expect 180+/- counter clockwise miles of the great roads of Marin County / North Bay.  Mostly smooth technical backroads, with a few bumps thrown in for fun.  Ride will around 5:30 PM in San Rafael area.  Not for newbies 
.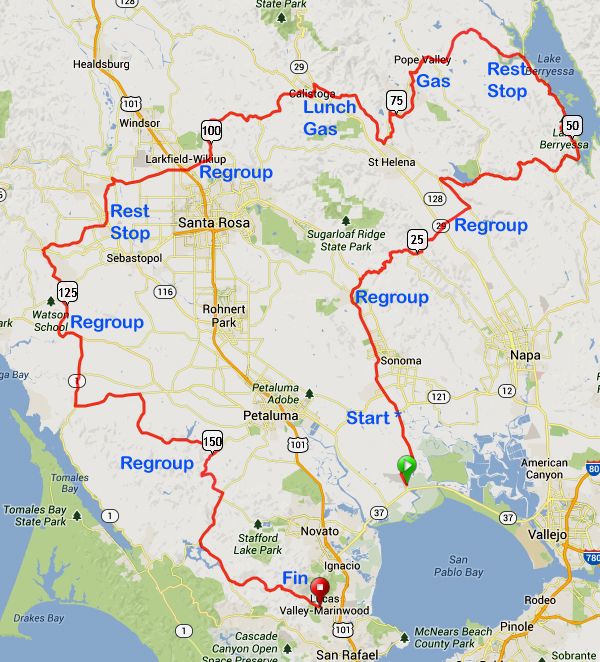 GPS Route:
ABOUT LUNCH: There are very few places with parking lot big enough for this many bikes.  We will stop in Calistoga at Mary's Café
• Lunch: Mary's Home Plate Cafe, 2448 Foothill Blvd, Calistoga  (Map Link) (707)[masked]
It's a small restaurant at the corner of Foothill Blvd (128) and Petrified Forest.  There are seats inside and outdoors.  We have stopped there before on past rides.  Links to the Cafe web site and their menu is below.
You can order your lunch when we arrive (is slow) or pre order (quicker). Please take a look at the menu below and if you like faster lunch service then email me your order no later than Friday 5PM.  We will compile all orders and phone them in Sunday morning.  Note:  pre order lunch only.  Order your beverage when you are getting your pre-order at the counter.
* Web Site: http://maryshomeplatecafe.com
* Menu (2 pages) http://maryshomeplatecafe.com/MarysHomePlateCafeMenu.pdf
Lunch pre-orders:1- Alan (BBQ Beef Sandwich);2- Shlomi (Grilled Chicken Sandwich);3- Ribeye steak & fries (Patti); 4- Philly Cheese sandwich & fries (Eric); 5 - Club Sandwich and order of French fries (Jeff); 6 - Chicken Burger Value Meal (Kira)
---
Buster's BBQ Option: If you prefer to have lunch @ Buster's BBQ (which is 1.5 miles from Mary's Café) be sure to let me know ahead of time, and ARRIVE at Mary's Café with full tank 60 minutes from when we arrive in Calistoga.


Words of Wisdom:
~ Please review Liability Release statement at THIS LINK
~ Proper gear, a working machine and gas in the tank is highly recommended.
~ Ride within your comfort zone and leave room for bad karma.
~ I may pass slower traffic when it's safe. You don't have to. Remember, someone will wait for you at turns, so just relax and have fun.
~ I maintain the Pace according to road conditions with safety of all riders in mind. Be mindful of others in the group. Let faster riders get ahead of you by moving to the right and signaling them to pass you. And if you want to pass the rider(s) who are in front of you, make sure to do so safely and without startling them.

~ If you know the area and would like to sweep for the group (AM shift, PM shift or both), please let me know.
~ Good stuff to read before going on group rides (CLICK).
~ Keep an eye for the rider(s) behind you so they won't take a wrong turn. If they get lost, you'll buy their lunch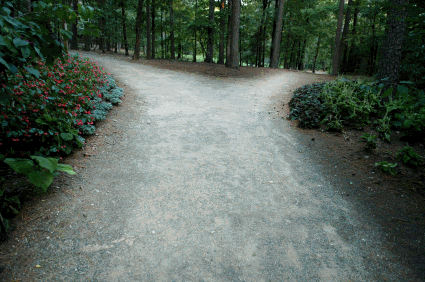 ---

Bay Area Weather Outlook:



My Phone #