We Own The Night: Spooky San Francisco Ghetto Night Ride
Our signature ride :-)   We'll be riding the hills, peaks and valleys of everyone's favorite city. We'll zip through the ghettos, pass the mansions and view the scenery very few people get to see in a week let alone in a single evening.
This ride is generally within posted speed limits, but the route is highly technical, scary, spooky, challenging and -- at the same time – exhilarating, breathtaking and absolutely positively fun.
We'll make a few rest and coffee breaks, but not long enough for a big meal, just what you can find at Starbucks ;~)
||||||||||   Space is very limited - Not for newbies or for the faint of heart  ||||||||||||
• When: Saturday 5/10/14
• For meal, arrive by 4:30 PM  <click - for your eyes only>
• For ride only, arrive by 5:30 PM
• KSU 5:45 PM (ride ends around midnight, or whenever we get sleepy.  There are breakaway points for those who need to get home early to relief the babysitter)
Last Ride: 
))))))))- PRE RIDE OPTION -((((((((((
South Bay / Peninsula contingent can meet me at Rest Stop on 280N North of Hwy 92 (right after Bunker Hill exit):
Arrive 3:30 PM, KSU 3:45 PM Sharp
Map link = http://tinyurl.com/280RestStop
• Tentative Stops:

If you get separated from the group, don't worry. Just go straight to the next REST STOP.You may get there before us if you take a straight route. Be sure to text me to let me know.
1. Twin Peaks (map) only if not too crowded and if  not foggy
2. Safeway (5290 Diamond Heights Blvd) 30 min - Starbucks & Restrooms inside
3. Golden Gate Park (John F Kenedy Dr. & 36th) restroom break
4. SF Legion of Honor (34th Ave & El Camino Del Mar) 15 min/photo op
5. Starbucks Laurel Hts (California & Spruce - rear parking lot)  30 min for coffee/rest
6. End of Van Ness near wharf (map) 15 min
7. Coit Tower - may be and only if there's parking
8. City Hall - end of the ride (what more do you want )
Good to go. Even Dan's Duc  :-)
Tentative Route -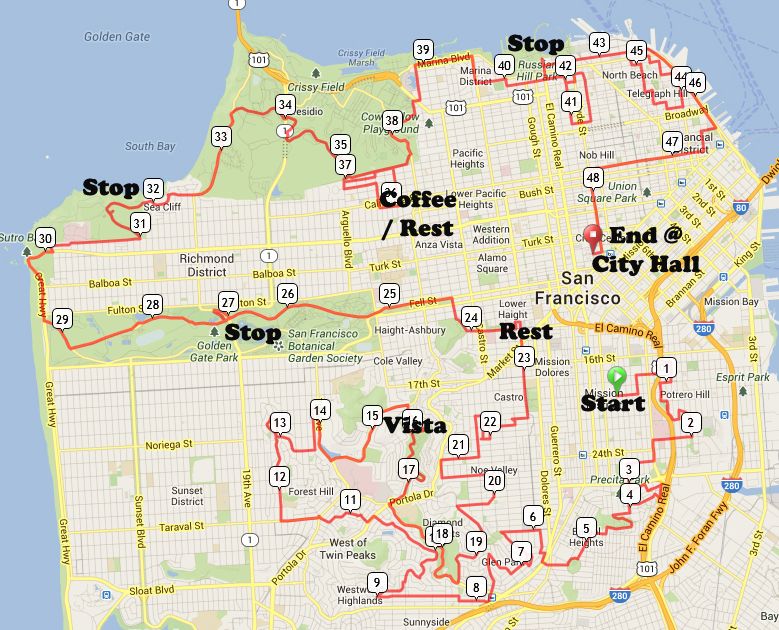 __________________________________________
How Many Bikes - How Many People? To keep the size of the group manageable, we'll limit the number of bikes.  MeetUp system doesn't distinguish between # of bikes and # of people.  Therefore, if you have a passenger simply indicate it in the comment section, and show only count of "1" in your RSVP for your bike.  If you wish to invite a riding buddy with own bike, please have them join and RSVP.
Dinner & Ride or Just Ride? In your RSVP, please state if you are joining us for dinner as well, or only the ride.  This way I know how many seats we'll need.
• Pace:  Not too slow.  Not too fast.  Just right.
• Gear: Head to toe.  It may be cold in May, so wear layers.
• Motorcycle: Yes, please bring one with you ;-)


~ Please review Liability Release statement at THIS LINK
~ Proper gear, a working machine and gas in the tank is highly recommended.

~ Ride within your comfort zone and leave room for bad karma.

~ I may pass slower traffic when it's safe. You don't have to. Remember, someone will wait for you at turns, so just relax and have fun.

~ I maintain the Pace according to road conditions with safety of all riders in mind. Be mindful of others in the group. Let faster riders get ahead of you by moving to the right and signaling them to pass you. And if you want to pass the rider(s) who are in front of you, make sure to do so safely and without startling them.

~ If you know the area and would like to sweep for the group please let me know.

~ Good stuff to read before going on group rides (CLICK).

~ Keep an eye for the rider(s) behind you so they won't take a wrong turn. If they get lost, you'll buy their dinner

~ City riding means traffic lights, stop signs and of course other vehicles.  Below is an exaggerated case, but it illustrates that getting separated doesn't mean getting lost. BLUE dots are riders going from A to G points of a route. RED dots are the riders who have stopped and are waiting for the rider behind them.  When stopping at a turn for a rider who is behind you, wait "before" the turn so they see you.  Not "after" or "in" the turn, because by the time they realize you have turned, they have missed the turn, or they may not even see you at all.  If you approach a rider who is waiting for you, but you don't see the rider behind you, please stop at the same stop so the one waiting can go while you wait for the rest to arrive. REMEMBER, WE ALL WAIT .... ALL EXCEPT THE SWEEP SINCE HE IS THE LAST ONE

Frequent Pauses:
As you can see, we'll have a large size group (20+ bikes). So, just like a Caterpillar, the "Head" section will have to wait for the "Tail" to arrive. Therefore, there will be frequent "pauses" to make sure the chain is not broken and that we have riders who are "marking" the turns for people behind them. We need a few volunteers …. 1 for sweep, of course. Plus 2 more "advanced" riders who will help with a smooth flow. Please email me if you feel comfortable helping out. .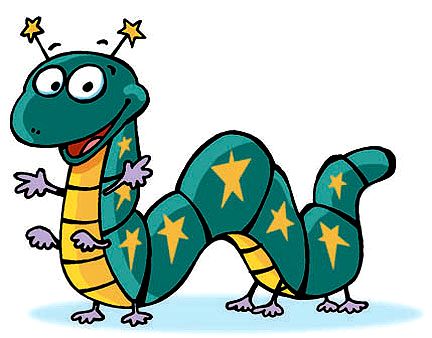 Tight Group:
We need to zip thru traffic lights and stop signs in as many at a time as possible.  Ride staggered, and if we do come to a stop, feel free to fill all lanes that we can take so as soon as light turns green a whole bunch of us can pass before it turns red again.  Picture below shows how to keep a tight group(distance from riders ahead of you) but only on straights and flat sections with good view.   When on crooked streets, uphills or down hills, ride single file 2-3 seconds apart.  Remember, 2-3 seconds means the distance from rider in front or behind you will vary according to the speed at the time.  Please don't tailgate or crowd the rider in front of you.  But if you see you are getting far from the rider in front, and the bikes behind you are on your tail, it means you'll be more comfortable riding closer to the tail end of the group which is normally slower.  When it's safe, move to the right and signal them to pass you.  And if you want to pass a slower rider, make sure to do so safely.
If you feel uncomfortable for any reason make sure to chat with Mehran or the sweep at the next stop so we can figure out how best to assist the situation.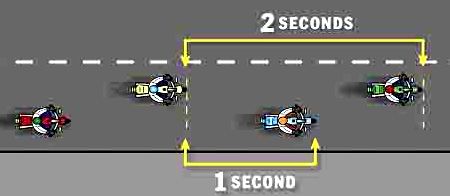 Down Hills:
SF Hills (going down) can be intimidating.  Downshift (2nd gear, or even 1st if you like) and lean back a little.  Cover front brakes.  If you are comfortable with "trail braking", cover the rear brake also, but DON'T lock the rear wheel.  Just a gentle tap on the pedal.  Prepare for sudden stops by the rider ahead of you.  LEAVE 2-3 seconds distance.
Going up hills is the same principal.  Shift weight forward and lean on the tank.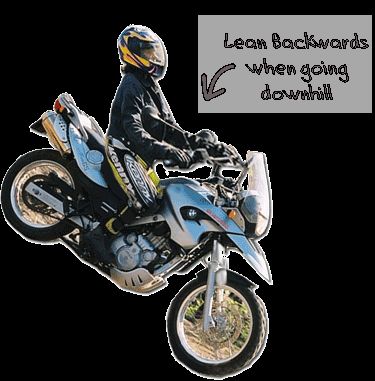 .. and of course the cardinal rule of watching out for the riders behind you.  Everyone must keep an eye for the rider behind them.  The only one who is exempt is the sweep, and that's because he is the last rider