This all day workshop will be limited to 8 entrepreneurs for hands on work with Tristan Kromer (@TriKro) 
defining experiments to test your startup's viability.
If you have no validating learning after completing your experiment and call, a full refund is available.
Note: All tickets on sale via eventbrite.
Early bird $150, Late bird $200, Student tickets $75
You should attend if:
• You do not currently have Product / Market Fit;
• Keep running experiments but aren't making progress;
• Are committed to an running an experiment that may prove your business is not viable;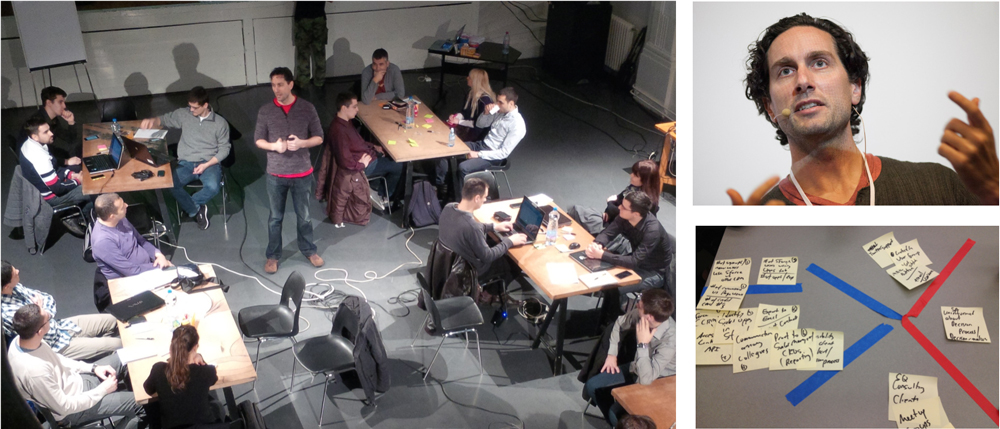 Requirements before attending:
• You must have a basic understanding of lean;
• You have defined an early adopter customer persona;
• Can commit to a 30 min follow up call to evaluate progress.
Contact Tristan [at] GrasshopperHerder.com if you are unsure about these requirements.
Agenda
• Learn how UX affects your Business Model;
• Refine your Customer Persona;
• Clearly define a series of experiments (or MVPs to test Product/Market Fit);
• Create metrics to measure your progress.
Note: All tickets on sale via eventbrite.
Looking for more marketing jargon? Here you go:
Big, bold, risky, and ideas require small steps forward.
Some ideas have technology risks, some have eco-system risks, some risk being crushed by 800 lbs gorillas in the industry, but all ideas have Product/Market Risk.
If you build it, will they come? (and give you money)
This workshop will take your big idea and break it into a series of small steps to test Product/Market Fit with a Minimum Viable Product.
Note: All tickets on sale via eventbrite.
About Tristan
Tristan helps product teams go fast.
Tristan works with product teams and innovation leaders around the world to apply lean startup principles to teams and innovation ecosystems.
Tristan designed lean startup programs such as the Build or Die Bootcamp for TechBA (Mexico) and the Lean Reactor (Belgium) in addition to being part of Luxr whose Core curriculum has been used by 13 accelerators internationally including Singularity University, 500 Startups, & the United States White House Innovation Fellows.
He has worked with companies ranging from early stage startups with zero revenue to established business with >$10M USD revenue (Kiva, StumbleUpon, Pearl) to enterprise companies with >$1B USD revenue (Swisscom, Pitney Bowes).
Tristan regularly speaks and gives workshops internationally with organizations such as the Stanford Center for Entrepreneurial Studies & D-school, Global Product Management Talks, Lean Startup Machine, and more.
With his remaining hours, Tristan volunteers his time with Lean Startup Circle, a non-profit grassroots organization helping to develop innovation ecosystems with meetups in over 80 cities around the world.
Originally from New York City, he has lived in Germany, Switzerland, Taiwan, Vietnam, and currently resides in San Francisco, USA. He blogs at GrasshopperHerder.com