One last training hike leading up to Cactus to Clouds, October 19th.  You do not have to participate in Cactus to Clouds to sign up for this hike.  Also, since I'll be in the Bay area the day before, missing Baldy up from Ski Hut, I like to get something in before next week's C2C = ).  So join me for some fun and a nice dinner at the notch afterwards.
As read in Dan's Hiking pages: Bear Canyon Trail—also called the Old Mt. Baldy Trail—offers some of the finest scenery and rewarding views in the San Gabriel Mountains high country. The first 1.8 miles to Bear Flat delightfully travels a superb single-track trail adorned with fern under a rich canopy of live oak, bay, and bigcone Douglas-fir. The lively creek gurgles, bubbles, splashes, and cascades down this enchanting canyon. Beyond Bear Flat the trail begins to steeply climb the chaparral-covered southeast flank of Mt. Baldy's great south ridge, You're rewarded with expanding views of Ontario Ridge, Icehouse Canyon, the "Three T's" and Baldy Notch. You'll then enter an open conifer forest with wide-reaching views toward the expansive San Gabriel Mountains to the west. Even without achieving a grand mountain summit, this hike is sure to provide a fulfilling outing for even a diehard peak bagger.
I lead a group up this trail last year and it's much less rocky than the Ski Hut trail and much less hiker traffic. The trail is also well defined from the start all the way to the Ski Lifts.
This is a strenuous hike with an elevation gain of 5800 feet over 6.3 miles to the top of Mt. Baldy and only recommended for advance hikers. This hike is not for beginners. To sign up for this hike, you must shoot me an email indicating your recent activities that have prepared you for this hike.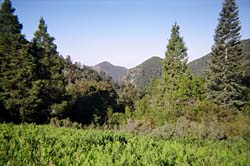 Meeting Location: Arriving at the Visitor Center at 10:00a, on Bear Canyon Road, there are parking spaces immediately on the right. On the left is the Village Chapel, so please respect their parking rights. There is also a small parking area up the road a 0.15 mile. Another option is to park directly in front of the Visitor Center on the Street or across the street. Please do not park in the parking places designated for Mt. Baldy Lodge; we need to respect local businesses and other private property. We will begin the hike at 10:15a..
After the hike, we will need transportation back to the Baldy Visitor Center from the bottom of the ski lifts. So we will need to have cars parked in two locations. We'll meet at 6:30a in front of the Visitor Center to determine the logistics of the number of cars we'll need to park at the bottom of the ski lifts and at the Visitor Center. It will all depend on the number of people who show up to do the hike.  The other option is hitchhiking down which I've done.
Distance: 9.4 miles to the Ski Lifts (Village to Mt.Baldy-6.3 miles plus, 3.1 miles Mt.Baldy to Ski Lifts) If you choose to take the lift down, it will cost $10 and can only be purchased at the restaurant at the top of the ski lifts. If you choose to not take the lift down, add another 3.2 miles (12.6 miles) of hiking.
Elevation gain: 5,800 ft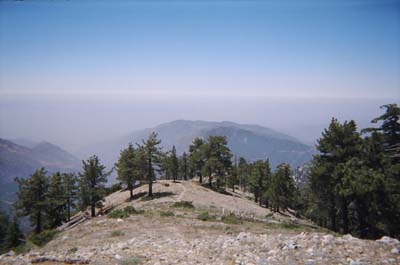 What to bring: at least 3-liters of water, snacks to nibble on on the way up and down, Sun Protection (sun screen, hat), Hiking poles (highly recommended) Wind breaker, head lamp, Lunch, Adventure Pass and a positive attitude.
There is also a restaurant at the top of the Ski Lifts. I'm open to have a bite there after the hike or down at the Village.
Warning: Please be in hiking shape for this activity. If you cannot handle major elevation gains in a short distance and altitude, please do not RSVP for this activity. This is considered a strenuous hike.
Disclaimer: The Organizer and Assistant Organizers in this group are not professional guides. The function of the organizer is only to organize the trip. Each person who signs up for a trip/meetup/or outing is responsible for his or her own safety. By signing up for a hike, or any other event organized by this group, you are acknowledging you are aware of the risks, dangers and hazards associated with any outdoor activity and freely accept and fully assume all such risks, dangers and hazards, and further agree to release and discharge the Organizer and Assistant Organizers of the Palm Springs&Inland Empire Hiking Meetup Group from and against any and all liability arising from your participation in the group activities.