I know there's a thread somewhere about him, but I can't be bothered to find it. So two years on we remember a great thinker. I promise this will be my only 'fangirl' post..
There's some brilliant Hitchslaps in here:


And this one is pretty touching and inspirational:





Cloe,
hope it's not your only fangirl posting
In fact, we should ALL post our fave Hitchens moment.
EDIT:
Here is one of my fave Christopher Hitchens moment, taken from a debate with Stephen Fry against Anne Widdecombe and Archbishop John Onaiyekan of Abuja, Nigeria.
Edited by Steve on Dec 15, 2013 10:51 PM
Happy Hitchmas:
Edited by Georgi L. on Dec 16, 2013 11:25 AM
It's the professional deformation of many writers, and has ruined not a few. (I remember Kingsley Amis, himself no slouch, saying that he could tell on what page of the novel Paul Scott had reached for the bottle and thrown caution to the winds.) I work at home, where there is indeed a bar-room, and can suit myself. But I don't. At about half past midday, a decent slug of Mr. Walker's amber restorative, cut with Perrier water (an ideal delivery system) and no ice. At luncheon, perhaps half a bottle of red wine: not always more but never less. Then back to the desk, and ready to repeat the treatment at the evening meal. No "after dinner drinks"—​most especially nothing sweet and never, ever any brandy. "Nightcaps" depend on how well the day went, but always the mixture as before. No mixing: no messing around with a gin here and a vodka there.
That helps with essays also.
Also.. found..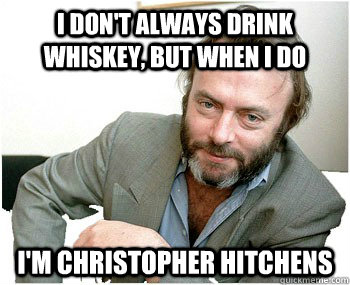 Edited by Cloe on Dec 18, 2013 12:34 AM