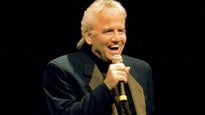 If you are interested in this concert, please contact me right away at[masked]-1923. I have three tickets that are 55.50 each, including all service charges. The venue is allowing me to be refunded (because the show was postponed from last weekend)....  but I thought I would offer this in case you love Jay Black and Bill Medley, and need a night out.
There are 6 ladies going, at this time. We are meeting at a diner in Syosset at 5PM for dinner, and then off to the show.
More importantly, I hope you're safe and warm.
Sue
Tonight at NYCB Theatre at Westbury - Jay Black and Bill Medley