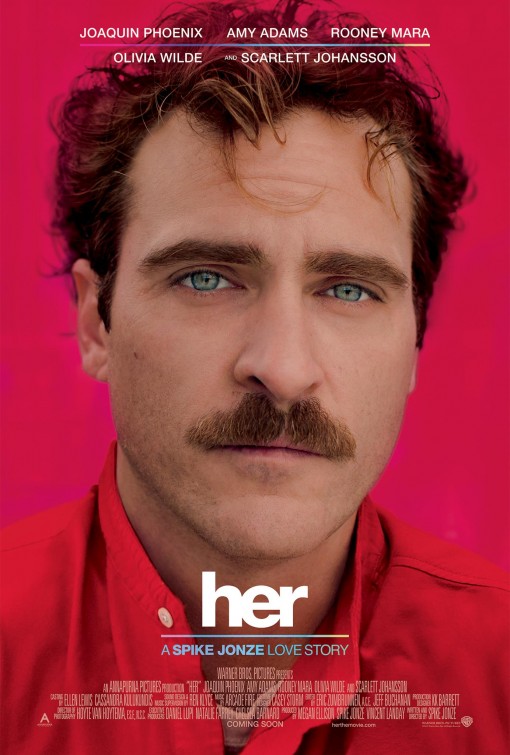 Synopsis: Set in the Los Angeles of the slight future, the story follows Theodore Twombly, a complex, soulful man (Joaquin Phoenix) who makes his living writing touching, personal letters for other people. Heartbroken after the end of a long relationship, he becomes intrigued with a new, advanced operating system, which more »promises to be an intuitive entity in its own right, individual to each user. Upon initiating it, he is delighted to meet "Samantha," a bright, female voice, who is insightful, sensitive and surprisingly funny. As her needs and desires grow, in tandem with his own, their friendship deepens into an eventual love for each other.
Watch the trailer: http://www.tribute.ca/trailers/her/19528/
---------------------------------------------------------------
Karlee is the organizer of the event. You can post a comment on the wall and she will reply.
Comments: An interesting exploration of soul searching and what our future may be......
----------------------------------------------------------------
Per MAMM policy, cellphone use by members during a movie is prohibited.  We request that you put away your phones once the previews start. If you need to check your phone for any reason, please exit the auditorium.
For (new) members: Please take the time to rate the event (not the movie) afterwards. Written feedback on the wall is also welcome if you want to talk about the movie or other things. Thanks!
----------------------------------------------------------
Meetup Location: I will be waiting by the ticket sales area with a "Mad About Movies" sign up sheet.
Meetup time:3:45 pm (I will wait for 5 mins only. If you come after that, please join us in watching the movie and meet us after the movie at the meetup location so I know you did join us).
The movie starts at: 4:15pm (non VIP showtime, Auditorium #3)
Show Running Time: 2 hours 6 mins.
Cost of movie: $13
After the Movie: I will be by the ticket sales area with a meetup sign, "Mad About Movies". We can decide to head out to the Big Smoke Burger which is a Canadian owned burger joint, Jack Astors or Hue's.
***When you RSVP yes to a meetup the Organizer will be waiting for you, please change your RSVP as soon as possible if you can no longer make the event***