DEAR MEMBERS,Here is the list of the startups:
KONVIV / NEEMO / KIKI APP / HEALTHGRAPH / LIFT ALERT / DAHYOR / TRUSTABIT / ANNABIS / IRSE / JOEBOTICS / ZYRL /
that are vying to get onto the "Live Sharks Tank" Stage and convince the Sharks to fund their dreams.
We have a few Startups spots open, apply here:
www.LiveSharksTank.co
­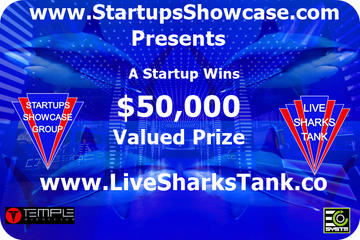 Who will the Sharks choose as their top 3;
from this list of startups at the "Live Sharks Tank ®" episode 54?
Who will the Crowd Choose as the $50,000 valued prize winner?Join us Friday Jan 19, 2018;
at Temple SF, 450 Howard Street, San Francisco CA. The doors open at 6PM.
See which Startups will make it onto the stage to convince the Sharks to invest into their Dream.
This event is for anyone who's age is 21+ bring a valid Government issued I.D!
Everyone is welcome to be a guest in the audience, get your early-bird tickets here: www.livesharkstank.co­
It's important to know that anyone has the opportunity to invest into their favorite startup, through equity crowdfunding.
Thank you,
Startups Showcase Group