DEAR MEMBER,
We could not have made it to 5 years without you, therefore THANK YOU!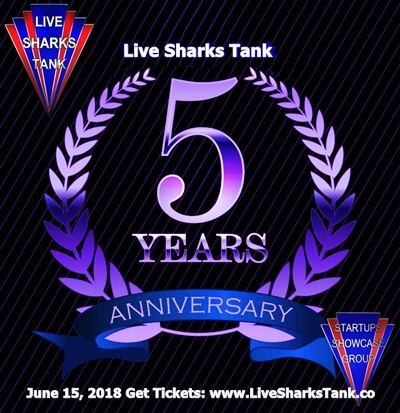 THE EVENT:
5 Year Anniversary!
We invite you to the 5 year Anniversary of
LiveSharksTank on June 15, 2018.  Tix here: www.livesharkstank.co
THE PRIZE:

Join us, and help us choose the winner of $50,000 valued prizes!
Get your ticket to be in the audience here: 
www.LiveSharksTank.co
­
THE STARTUPS:

Meetcaregivers, Konect4, Staplets, NoLimitGames, PaulHardt, SerialMetrics, Driveroo, Vital, Stafter
THE VENUE:
Broadway Studios, 435 Broadway San Francisco, CA
Our Venue sponsor, has paid for 50% of your ticket! First 100 get 50% off tickets - first come first served!  Get ticket here:
www.livesharkstank.co
­, with promo code: BroadwayStudios
THE SHARKS:

Manny Fernandez, Roger Royce, Karim Nurani, Parul Sahai, Luis Montes, Rania Hoteit, Peter Henry, MicroVentures, DreamFunded, Wayne Sutton, Steve Hoffman, Francesca Valdez, Fred Davis, Suraj Bhrigu Raj Singh Jhabua, Andrew Bartels, Sheridan Tatsuno, Robert Scoble, Tim Draper, Bill Sautter, Peter Crane, Peter Henry, Dave McClure, Stas Khirman, Nir Levneh, Gwen Cheni and many other investors are plugged in. We've had over $244,000,000 in financial transactions for Startups!
THE BIG QUESTON:
Will there be two $50,000 prizes awarded?
THE OPPORTUNITY:
Share this great opportunity to meet the next Facebook, Google, Snapchat, Tesla, etc...50% off ticket price, use the promo code: LiveSharksTank-Alumni
Startups Showcase Group, www.startupsshowcase.com  |  www.livesharkstank.coAll rights reserved.