Join a group of Jewish Singles on a  9-Day Eastern Caribbean Cruise  that includes round trip motor coach bus transfer to New York from Montreal
Dates Monday 23 December 2013 to Wednesday 01 January 2014 ( 9 nights)
Our group will be meeting at several occasions during the 9 night ( all optional) 
We will have Friday night dinner together and participate in several activities as a group such as trivia night , karaoke , bingo ect...
Group host will inform you of all activities for our group.
Several options will be available to meet up for excursion on the islands and arrangement to have meals as a group on the ship.
Norwegian Cruise line offers free style dinning so we can reserve tables for our group to enjoy meals together
price[masked] cad taxes and OPC fund included base on double occupancy
We can also find you someone to share the room with if required
Tips and alcohol are not included
For more information and reservation call[masked]
Get what you deserve: A fun excursion under the sun. The Caribbean offers cruisers plenty of activities to get their feet wet. Swim, snorkel or stay dry and shop for souvenirs in San Juan. See the breathtaking harbors in St. Thomas, and venture deep into the lush tropical rain forests of Samana in the Dominican Republic.
DayPortArriveDepart
Day 1New York (EMBARK)---4:00 pm
Day 2At Sea-----
Day 3At Sea-----
Day 4San Juan3:00 pm9:00 pm
Day 5Philipsburg, St. Maarten8:00 am6:00 pm
Day 6St. Thomas, US Virgin Islands8:00 am5:00 pm
Day 7Samana, Dominican Republic8:00 am4:00 pm
Day8At Sea-----
Day 9At Sea-----
Day 10New York (DISEMBARK)10:00 am---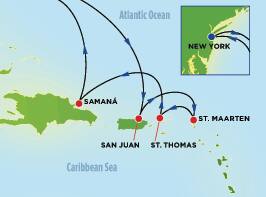 Please Note:
Disembarkation usually begins 2 hours after docking.
Due to security reasons, all guests must be on board 2 hours prior to sailling