A little while ago I heard a rumor about a secret falls on Cast Creek called Apparition Falls. I immediately came home and searched it and found the following link:
(Scroll down past the map on the link and click on 'Back to Main Page' for the hike description and photo journal.)
http://www.bing.com/images/search?q=apparition+falls&view=detail&id=8D70820D89C9E1EFED1FE25A7303C31FC8656CCB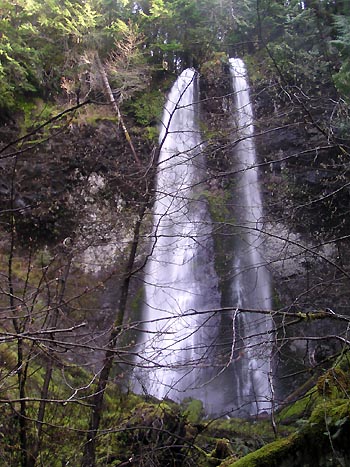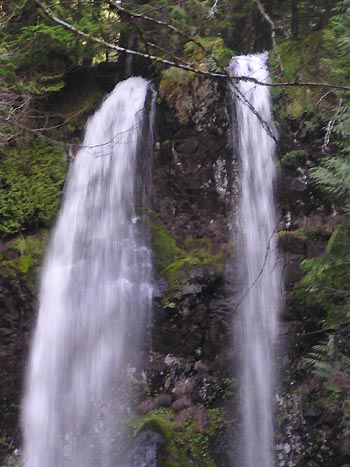 I intend on heading in the same path as is indicated on the map below but if we can get an early enough start and the going is good then I'd like to do one of two options depending on just how fast we're moving: (1)keep following the creek up to Cast Lake. From there we can continue up to the Zigzag East lookout, OR (2) follow Dumbell Creek up to Dumbell lake then up to the top of Zigzag, then down the north ridge and south to Cast Lake, then over to the Zigzag East Lookout. From there we could follow the cast creek trail back down to the cars. Where we break for lunch would be based on what kind of time we are making and how the group feels. I don't plan on stopping for a meal prior to reaching the falls and preferably not before Cast Lake but that will all depend on what kind of time we are making and how the group feels. I love taking pictures and stop frequently for good shots but I rarely take off my pack and don't like stopping long enough to cool down. Ideally, if we make great time then we may just push on and have a nice long lunch on top of Zigzag or at East Lookout.
One thing to keep in mind is that there may be an opportunity to rope up for descending down to the falls in the event that we can't make it through the ravine. So if you have a harness it would be a good idea to bring it just incase. I will be bringing a rope. If you aren't comfortable with this then you would still have a great view of the falls from the top. 
I am gambling that November won't be to late in the year to try this trip. This is not your average group hike. Be prepared for an adventure. There is no trail going in so we will be bushwacking up to the falls and beyond. We will pass three sets of falls and will be crossing the creek approximately 5 times prior to getting to the falls and who knows how many times on the way up to the lake so wet-worthy gear should most certainly be worn and/or carried.
If you like adventure, don't mind getting (and staying) wet and being off trail, like getting pictures of beautiful things rarely seen by others, and don't mind the possibility of coming down in the dark then this is probably a good trip for you.
MY HIKING STYLE:
I love the woods and prefer to see as much as possible on a given trip. If we have time to stop for three meals then we're on too short of a hike. That being said, I don't actually move very fast and I believe in operating as a strong, unified group. I am not a hike leader, but rather I am simply an organizer. I believe in promoting and maintaining a positive and supportive group attitude and want the hike to be a great team experience for all who attend.
STATS:
Anywhere from 6 to 10 miles with a starting elevation of 2,220'. The highest points would be 4,877' on Zigzag and 4,971 at East Lookout with ups and downs between them. Final stats will depend on conditions and how we do as a group.
WHAT TO BRING:
Ten Essentials
Wet Weather Gear
Harness and prusik rope or leash plus a locking caribiner (just in case)
Poles
Water (2 to 3 liters)
Food
Head Lamps and fresh batteries
First aid kit if you want but I will have a pretty decent one with me.
An emergency shelter or bivy is always a good idea this time of year (you never know)
If you have any questions don't hesitate to let me know.  I will update on Wednesday the 7th.