DIRECTORY:
• Southwest Expedition Series Index
http://www.meetup.com/NYCAsianMeetup/events/229275835/
COYOTE BUTTES NORTH
ADMISSION: TBA
DESCRIPTION:
Coyote Buttes is a section of the Paria Canyon-Vermilion Cliffs Wilderness managed by the Bureau of Land Management (BLM), spanning extreme south-central Utah and north-central Arizona, south of US 89 halfway between Kanab, Utah and Page, Arizona. It is divided into two areas: Coyote Buttes North and Coyote Buttes South. Visiting either of the Coyote Buttes areas requires purchasing a hiking permit.
The Coyote Buttes area is an exposure of cross-bedded aeolian Jurassic Navajo Sandstone. The variable coloration of the sandstones is a result of various iron oxide pigments within the layers. A dinosaur trackway or trample surface is found in the area and provides evidence of a variety of dinosaurs. The area includes dramatic swirling erosional rock formations such as The Wave.
The Wave and Buckskin Gulch share the Wire Pass Trailhead on House Rock Valley Road.
ATTRACTIONS:
• The Wave: is a sandstone rock formation located in Arizona, United States near its northern border with Utah. The formation is situated on the slopes of the Coyote Buttes in the Paria Canyon-Vermilion Cliffs Wilderness of the Colorado Plateau. The area is administered by the Bureau of Land Management (BLM) at the Grand Staircase-Escalante National Monument visitor center in Kanab, Utah.
The formation is well–known among hikers and photographers for its colorful, undulating forms and the difficult hike required to reach it. Due to the fragile nature of the formation and the large number of people wishing to visit it, a daily lottery system is used to dispense only ten next–day permits in person at the Kanab visitor center. Additionally, ten online permits for each date are available four months in advance of a planned trip. A map and information about the hike is supplied to those who have obtained permits.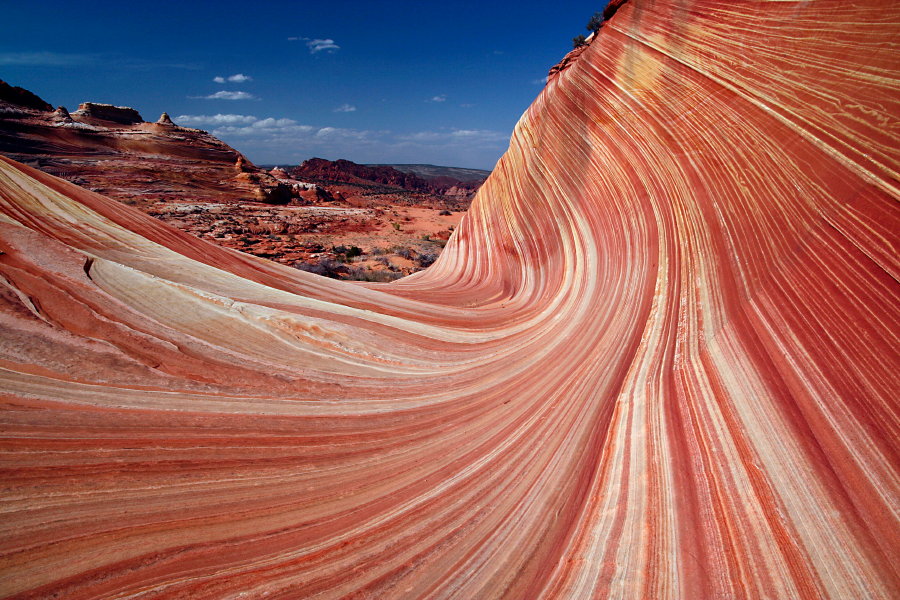 Difficulty: Easy
Distances: 1 Miles
Duration: 1 Hours
Map:
https://www.google.com/maps/dir/37.0189595,-112.0252728/The+Wave,+Marble+Canyon,+AZ+86036,+United+States/@37.0080803,-112.0206855,15z/data=!4m9!4m8!1m0!1m5!1m1!1s0x8734f1a42861b2f1:0x6e7a31cba858989d!2m2!1d-112.0061302!2d36.9956293!3e2
Reference:
https://en.wikipedia.org/wiki/The_Wave,_Arizona
RECOMMENDED ITEMS TO BRING:
• 4x 1 Lite of bottle water
• Lunch
• Snacks & Fruits
• Sun Screen
• Bug Repellent
RECOMMENDED CLOTHES TO WEAR:
• Hat
• Sun Glasses
• Lightweight clothing
• Hiking Boots or Shoes
• Lightweight Back Pack
• Lightweight workout pants
DISCLAIMER:
When you RSVP "Yes" to an event, or participate in an event, please understand that you are responsible for your own safety and well-being, and will hold no one else liable in case of personal injury or any mishap. You agree not to hold the meetup group's organizer, assistant organizers, event organizers, hosts, or any other group members responsible for any injuries or issues that may occur at any time before, during or after an event. You are personally responsible for obtaining essential information about an event, making necessary preparations for participating in the event, and ensuring your own safety and well-being. Your RSVP of "Yes" on the event page or attendance of an event signifies your full understanding and acceptance of the terms of this liability waiver. We reserve the rights to limit this event to physically fit people.

END