Holy SHIT! We've been offered several FREE Ticks to the upcoming Free pre-release screaming of MACHETE KILLS!
Yeah, I know, it fkn' ROCKS!
We're not sure how many tickets we'll be getting yet, but hopefully we'll be able to get every Grinder who wants one in. SO, how we gonna run this event? 
Regardless of whether or not you've already RSVPd on our event page, in order for you to get a ticket you must text me on my cell at 347.523.3937. AS WELL, you must have ALREADY ATTENDED another event with our group that was NOT a Free Pre-Release Film Screening AND left both a Review of the event you attended AND a review of the NYC GRINDHOUSE MeatUP. If not, you can't go. NO EXCEPTIONS!


The film will begin PROMPTLY at 7pm at a location somewhere in Manhattan that is very easy to get to. I'll share the location with those who properly RSVP.

Got questions? Text your mom, but don't call her as we're busy right now...


- Michael j, 'Grindmaster'
[masked]
MACHETE KILLS OPENS IN THEATERS ON FRIDAY, OCTOBER 11TH. WE'RE HOPING TO BE INVITED TO A SPECIAL FREE PRE-RELEASE SCREENING OF THE FILM BEFORE THAT. WE'LL KEEP YOU INFORMED ON THIS...
Danny Trejo returns as ex-Federal agent Machete, who is recruited by the President of the United States (Charlie Sheen) for a mission which would be impossible for any mortal man – he must take down a madman revolutionary and an eccentric billionaire arms dealer (Mel Gibson) who has hatched a plan to spread war across the planet.
www.facebook.com/MacheteKills
www.wikipedia.org/wiki/Machete_Kills
www.twitter.com/MacheteKills
Machete Kills is an upcoming action film, written and directed by Robert Rodriguez.It's the second in a series that started with the 2010 film Machete (presaged by a fake trailer in Grindhouse). Danny Trejo, Jessica Alba and Michelle Rodriguez will be reprising their roles from the first film, and are joined by series newcomers Sofía Vergara, Demián Bichir, Amber Heard, Antonio Banderas, Zoe Saldana, Edward James Olmos, Vanessa Hudgens, Cuba Gooding Jr., Alexa Vega, William Sadler, Lady Gaga, Marko Zaror, Tom Savini with Charlie Sheen and Mel Gibson.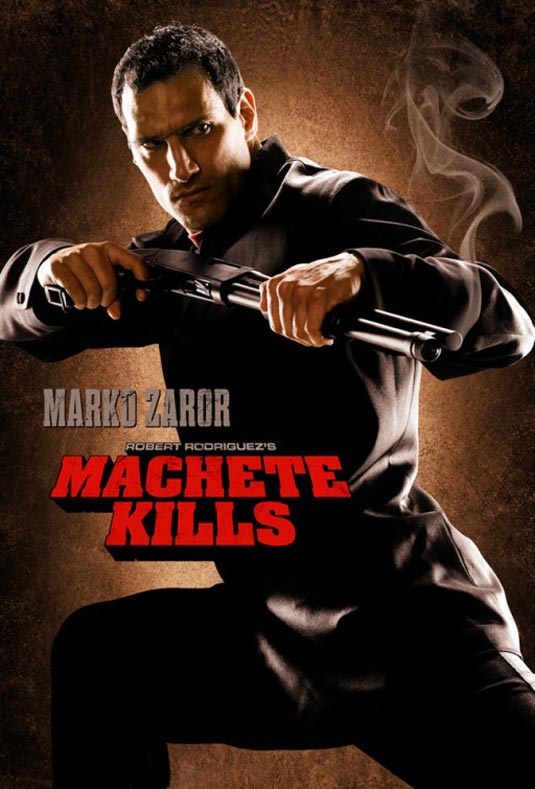 MACHETE KILLS - TEASER TRAILER from HollywoodlanD on Vimeo.
Título: Machete Kills
País: USA
Estreno: 13/09/2013
Productora: Troublemaker Studios
Director: Robert Rodriguez
Guión: Robert Rodriguez
Reparto: Danny Trejo, Mel Gibson, Michelle Rodriguez, Jessica Alba, Demián Bichir, Amber Heard, Sofia Vergara, Edward James Olmos, Charlie Sheen, Electra Avellan, Elise Avellan, William Sadler, Vanessa Hudgens, Marko Zaror.