Hello NNJPE Members!
As Ellen had announced I will be participating as an Assistant Organizer of the group so that I can add valuable information about our furry friends in general and those in our rescue care at Pug Planet. I will continue to contribute and post informative updates and topics from time to time and to keep you all posted on what Pug Planet Rescue has been doing for the pugs in need.
I have corresponded and met with some of the members that have lent their support to our rescued pugs. Thank You! We always remember those that were a part of helping a pug in need! While rescue is no easy task it does take pug loving people to support pug rescue efforts and we do need to reach out to those pug lovers in hopes to help all the pugs that need us!
We also have some adopters that are a part of NNJPE and are advocates of pug rescue efforts as is Ellen. I am proud to be a part of helping save the lives of many pugs in need and to be part of a pug meet up group that advocates supporting pug rescue!!
Whether it be gift cards to pet stores, online suppliers, or for our pug's medical expenses helping with monetary needs is one way to help. Other ways to contribute to pug rescue efforts are by volunteering which can require can require time. We have also had some creative folks out there contribute their talent to help raise pug funds. Crafters, artists, sewing & knitting guru's, and good pug shoppers that have contributed pug related items to our raffles.
Please contact us if you would like to help with our rescue efforts in any way!
You can take a look at a long list of pugs we have helped as well as those that are looking for forever homes!
www.pugplanet.petfinder.com­
Just wanted to share the latest info with at Pug Planet Rescue!
My special needs foster pug
RAMBO
as most of you already know his amazing journey. Rambo is featured as Pug Planet's February Pug of the Month along with his story. Rambo is another case of abandonment. He was born with congenital defects of both arms which prevent him to walk upright. Surgery was not an option for Rambo, but he did learn to walk on his rear legs!
Then Rambo stopped walking on his rear legs suddenly and he was found to have Legg Perthes Disease requiring hip surgery. Recovering and bouncing back from that he began to have issues getting around again and both his knees had luxating patella. Rambo had the first surgery on his Right knee back in October. It made a great difference in him getting around again but he does favor that side he had surgery on.
He is scheduled for Luxating Patella Surgery on his Left knee Monday, Feb. 27th.
Pretty soon he will be able to stand up on both back feet again!
Anyone who can lend their support towards his surgery and rehab please let us know!
Read about Rambo and all this little guy has gone through.
http://www.petfinder....­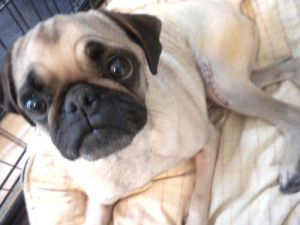 HAPPY TAILS
to report!! My foster boy
REILLY
has found his forever home. I've been receiving lots of pug reports and although I miss him I know how much his family love's him. Thanking them for the extra puggie funds they gave us for all of Reilly's care. He had a bad bout of Giardia after receiving several treatments his new family were willing to provide any additional care he may need for it. He has another test in a few weeks and hopefully all is clear. He is doing great though and very loved!
Tara & Ron have found a forever family for
LAYLA!
Looking forward to those updates :)
Just as one leaves there is always another waiting and in need.
NEW PUG AT THE PLANET:
3 y/o female pug whose owner had passed away came in from Philadelphia yesterday. We don't have any prior vet history but she will see one of our vets for all her needs. Paula, Ralph & Brie will be her foster family. Thanks to Kathy & Jim for coming to her rescue. We will update on her soon as we learn more!
Tara & Ron have been fostering almost 1 year now! The first foster was
MONTY
who we saved from a shelter and was heartworm positive. He stayed in rescue foster care for almost 6 months until he finished his treatment and was clear of heartworm disease. Tara & Ron could not part with Monty and adopted him into their loving home.
In our next email we have put together a special segment on
FOSTERING.
I will admit it is not the easiest thing to do, but as they say
Love Hurts
! Stay tuned as we share our foster families share their personal experiences and views with everyone!
Kind Regards,
Kim