Oct 11, 2013 · 7:00 PM

This location is shown only to members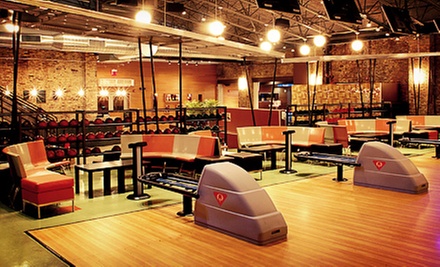 Two games of bowling (a $5.95 value/person/game)
Shoe rental (a $4.75 value)
One order of tacos or mac 'n' cheese per person (up to a $7.49 value each)
Three orders of tater tots to share (up to a $4.99 value each)
Click here to reserve your spot via PayPal

North Bowl Lounge n Lanes
North bowl is anything but a typical bowling alley. Previously a mechanic's garage, North Bowl Lounge n Lanes was completely overhauled in 2006 before reopening as a swank, 21,000-square-foot retro-style bowling alley and nightclub. With two floors, an upscale comfort food menu, a large bar, and a vast sweep of polished wood lanes, it's become a North Philadelphia gathering place for the 21-and-over crowd.
The food here isn't anything like typical bar fare, either. Upstairs in the cafe, diners munch on Baja-style fish tacos with housemade salsa or Cajun mac n' cheese as they overlook the lanes below through windows. After bowling, there's more fun to be had in the retro arcade, where video games and pinball machines offer a form of competition that requires no heavy lifting and wearing special shoes is optional.