PTM Tours:  Tigerlabs -
**UPDATED ** Parking info
There is no dedicated parking lot at the event venue but there is ample parking available for the event on Spruce, Pine, Maple, and Linden. The below map outlines these streets (highlighted in orange) with Tigerlabs (252 Nassau Street, 2nd Floor), marked with the "A" (entrance on Nassau Street).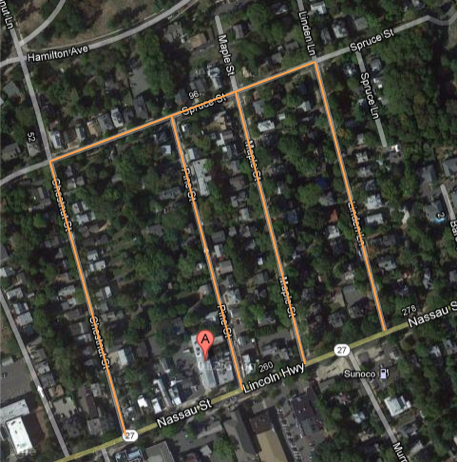 Princeton Tech Meetup introducing a new series of Meetup event and we are calling it "PTM Tours". We will go to a Local Business every time we do a PTM Tours event. For the first time we are planning this and hope you will like this format, We will be at Tigerlabs for this very first event.
7:00 - Arrival -  Snacks, Pizza & Networking.
7:30 - Start of Meeting - Introduction slides by the organizers.
7:40 - Keynote Speaker - Bert Navarrete - Tigerlabs - GM and Managing Partner
8:20 - Princeton University Entrepreneurship Club - Momchil Tomov
8:30 - What Kids and Entrepreneurs Have in Common - Reuben Steiger
8:40 - Halberd Match  - Alex Lamb
8:50 - Open-mic to quickly promote your business or broadcast a need that someone in the group might be able to fill.
8:50 - Wrap-Up, discussion of Meetup, feedback and opportunities for improvement or future topics.
9:00 - End of formal part of meeting.
9:01 - After Hours Party - Location: TBA
---
Tigerlabs:
Tigerlabs is an entrepreneurship center based in Princeton, NJ, catering to the diverse needs of the entrepreneurial community.
Located in downtown Princeton, Tigerlabs provides a flexible co-working venue for emerging startup companies and offers startup education workshops and events open to the community. In addition, through Tigerlabs Health and Tigerlabs University, they provide startups with seed capital, mentorship from key industry executives, a variety of perks, and a shared collaborative hackerspace for passionate students and individuals to pursue careers in technology entrepreneurship.
More info about the presenters:
TBA
Bert Navarrete -
Bert is an experienced investor and co-founder of Tigerlabs. Prior to Tigerlabs, Bert was a co-founder at Connected Sports Ventures, a startup that builds interactive sports applications for Connected TVs and second screen devices. Previously, Bert was responsible for M&A and venture investments at Internet Capital Group (ICG). Bert has made investments in early stage companies across a variety of technology sectors and has had broad operational and investment management responsibilities.
Prior to ICG, Bert was an Investment Partner at Mitsui & Co., where he led Mitsui's New York Technology Investment Group. While at Mitsui, Bert was responsible for managing and executing venture and private equity investments and oversaw the firm's overall investment strategy. Previously, Bert was VP of Technology Strategy and Business Development at Merrill Lynch Technology and also managed a strategic venture fund consisting of investments in the internet, media, and mobile sectors.
Bert has served on the board and was an advisor on several notable investments, including CapitalIQ (NYSE: MHP), The Wedding Channel (NASDAQ: KNOT), MyFamily.com (ancestry.com), and Synacor (NASDAQ: SYNC). Bert was also a founding member of Merrill Lynch's first seed-stage venture fund.
Alex Lamb -
Alex is currently employed as a Research Scholar at Princeton University. His research focuses on complex systems modeling of naturally occurring systems, from models of insects to human societies.
He has a background in software design and development with an emphasis on Java, Android, scientific computing and data visualization.
His experience includes complex systems research, including network science, agent based modeling, and machine learning.
In addition, he is a leadership and communication skills instructor, training through the use of behavior science and improv-based techniques. He is an internationally respected improv instructor specializing in the creation of full length unscripted plays, a co-founder of the San Francisco Behavior Lab and a science fiction author.
Alex is interested in finding potential co-founders for a company with a high-concept science-based angle.
If people want to give feedback around the exercise or are interested in interactive games or improv in general, they should talk to Alex in the pub afterwards.
Reuben Steiger -
Reuben has spent over the past 20 years helping design and scale some of the world's most exciting businesses.

He spent 2012 as a Principal at Method, the global design firm known for creating TED.com , Google TV and the BBC iPlayer. While there, He defined the offering, and positioned Method as the world's leading experience design firm. This work became an article in Fast Company called "Who's the Chief Experience Officer?". In it, he explained how companies can emulate Apple and Zappos, combining branding, product and service design to deliver amazing customer experiences.

In 2011 He led the launch of the IPG Media Lab, Interpublic's advanced research space in midtown Manhattan. As Managing Director, he led a large a team of architects, technologists and digital marketers to design a physical and virtual showroom of the future of media. Our mission was to highlight key trends for our clients who spend $36B annually on media. The Lab launched to much fanfare in November 2011.

Prior to moving to New York in 2010, He spent a decade in San Francisco working at the intersection of gaming, online communities and social media. He was an early employee at Linden Lab, creator of the pioneering 3D virtual world Second Life. He left Second Life in 2005 to start a company called Millions of Us. We used virtual reality tools and platforms like Second Life to create branded entertainment experiences in online communities. Our clients included Nike , Warner Brothers, Intel, and SONY. We sold part of the firm to ad giant Omnicom (NYSE: OMC).
Momchil Tomov -
Momchil is the President The Princeton Entrepreneurship Club and a junior studying Computer Science at Princeton University. With a strong passion for algorithms, and an extensive programming background, he enjoys building software and web apps. After working as a software engineer for several companies, he became interested in startups and entrepreneurship. He is very involved with the Princeton startup community, particularly with bridging the gap between idea conception and execution. In his free time, he likes to compete in programming competitions and jump from planes.