Post #: 6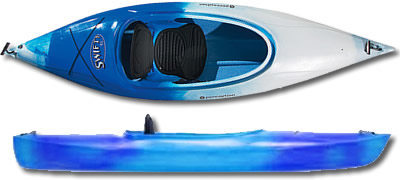 ---
The Perception Swifty 9.5 Kayak is a one person kayak. It is light and easy to maneuver. It tracks well and is very stable. This is a good boat for beginners. This one is gently used and comes with a paddle.
• Dimensions: 9'6'' x 29''
• Weight: 39 lbs
• Capacity: 300 lbs
Edited by User 19,621,621 on Jun 17, 2013 6:37 PM
Hi, it's Martin -- are you really giving this one away? If so, my daughter would love to paddle with me, this would be wonderful... particularly this time of year! Happy to trade you an Alterra gift certificate or something... Please let me know -- Martin (globalmarty@mac.com) Thanks!

Post #: 8
Thanks, everyone. The kayak has a new home.




---


The Perception Swifty 9.5 Kayak is a one person kayak. It is light and easy to maneuver. It tracks well and is very stable. This is a good boat for beginners. This one is gently used and comes with a paddle.
• Dimensions: 9'6'' x 29''
• Weight: 39 lbs
• Capacity: 300 lbs
If this is still available I am interested . call me 1-262-825-7666