By coincidence, General Assembly is organizing a similarly-themed session at the same time as ours, and we are excited to be putting them together now as a partner event. The time and duration of John Keltz's talk is unchanged as per our original schedule.

ATLANTA STORIES THROUGH PUBLIC DATA
Creating engaging civic data visuals requires two components: data access and presenting meaningful views. John Keltz will demonstrate this process for several Atlanta-oriented public data sets including tax appraisals, crime, commuting patterns, and public transit. The talk will include information about the source datasets, the thought process for creating visualizations, and an overview of the tools and techniques used -- including QGIS, R and Tableau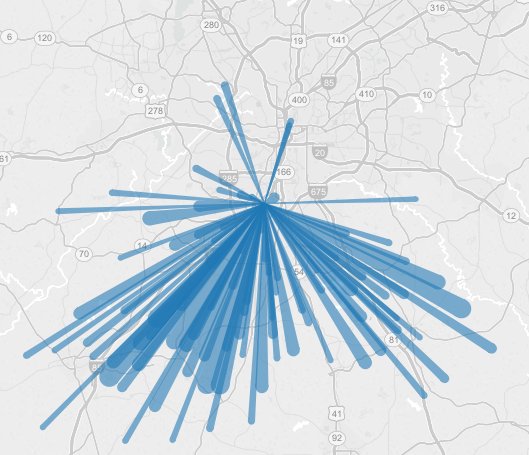 DESIGNING YOUR ATLANTA: WHAT DOES THE DATA SAY?

Mike Carnathan, from the Atlanta Regional Commission, will
provide a critique of the demographic and socioeconomic conditions
that have created discrepant outcomes in the region and the city.
Through an analysis of the data, he will discuss issues of inequality,
housing affordability, access to jobs, the unequal recovery from the
Great Depression, and show how these are spatially distributed.

What will it take for the City of Atlanta to house more
than a million people and are we on track to become that city?


About our speakers:
John Keltz writes the data blog NumbersBox, which combines data visuals and story-telling and has been featured several times in Curbed Atlanta and by Tableau Public. He is also the Director of Research and Evaluation at Atlanta Public Schools where he works on program evaluation and data analytics, including measuring teacher and school effectiveness and visualizing student data for use by school staff and district leadership. Before working for APS, John did similar work at the Wisconsin Center for Education Research and received his master's degree in economics from the University of Wisconsin.
Mike Carnathan is the Manager of the Research & Analytics Division at the Atlanta Regional Commission and is one of the founders of Neighborhood Nexus, which is a community intelligence system for the Atlanta region, providing data, tools and expertise as a catalyst to create opportunity for all of the region's citizens. The goal is to foster a data-driven decision-making culture in the Atlanta region and beyond. Mike oversees the compilation of thousands of variables and indicators that tell the data story about the Atlanta region. And story-telling is key. One of Mike's chief challenges is to help community groups tell their story better through a data-driven approach. More details about our partner event can be found on the GA landing page.
Event details:
Doors will open at 7 for mixing, networking, and refreshments.
Food and drinks will be provided. John's talk will start at 7:25, followed by Mike's at 8. Our Q&A session for both speakers will be held after that. We will unfortunately not host lightning talks this month.
As always, please consider signing up for a ⚡️lightning⚡️ talk: http://www.meetup.com/PyData-Atlanta/pages/20893440/Info_about_giving_a_lightning_talk/