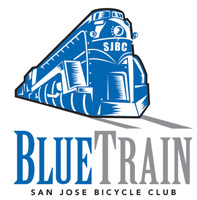 https://www.youtube.com/watch?v=RqkK8BJJSMQ
Strava: Blue Train Gilroy Loop
Departure: 9:00a
The A group rides at a brisk pace and is meant as a training ride for the more race oriented rider. Typical average speed over the 48 miles is 21-23 MPH depending on the group.
There are KOM's at the top of Buffalo Hill and the Sycamore wall (these are also rolling stops to allow a regroup). Sprint points are at the sign before the stoplight on Day Rd (just before Christopher High School) and also at the Uvas dam shortly before the parking lot. A short stop is made at the Gilroy public course for water refills and restroom use.
Each rider should be comfortable in riding in tight pacelines. No aerobars and no headphones please.

Note: These is not an organized ride. It's simply a way to get some training and to also meet members of the San Jose Bicycle Club.