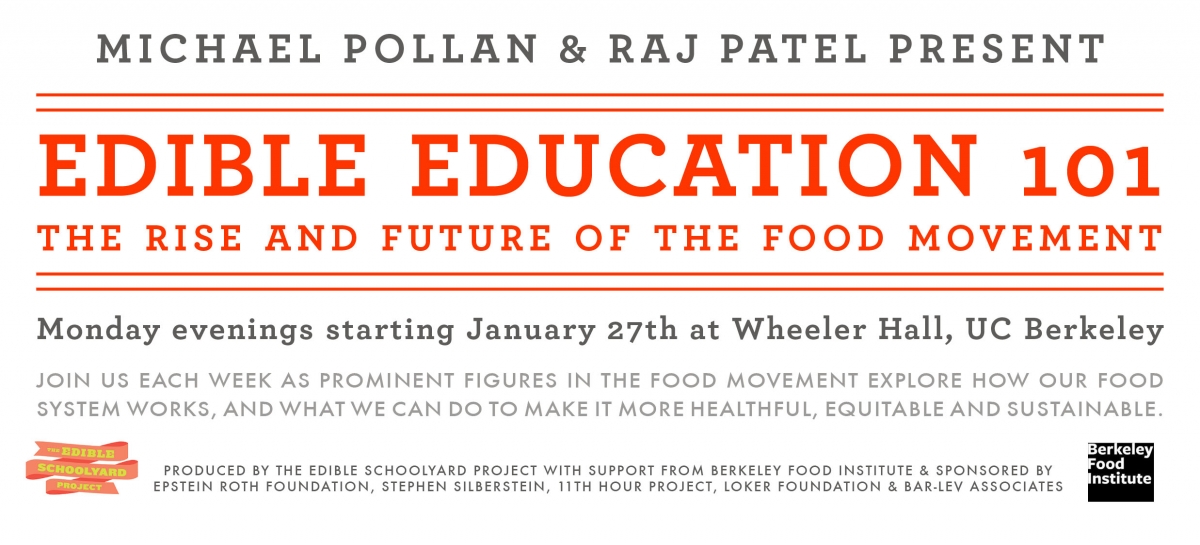 "The global industrial food system contributes an estimated 44-57 percent of global greenhouse gases to climate change. In contrast, the world's small-scale farmers—the ones keeping agricultural diversity alive—provide 70 percent of all food eaten globally, using just 30 percent of the world's agricultural land" (The Guardian). How do our agricultural practices impact climate change? What are some of the strategies agriculture might adopt to mitigate and possibly even reverse climate change?
ANNA LAPPÉ
Anna Lappé is an author and educator on food systems and sustainability. With her mother, Frances Moore Lappé, Anna co-founded the Cambridge-based Small Planet Institute, an international network for research and popular education about the root causes of hunger and poverty, and the Small Planet Fund, which has raised nearly $1 million for democratic social movements worldwide, two of which have won the Nobel Peace Prize since the Fund's founding in 2002. Anna is the head of the Real Food Media Project, a new initiative to spread the story of the power of sustainable food. Her latest book, Diet for a Hot Planet: The Climate Crisis at the End of Your Fork and What You Can Do About It (Bloomsbury), was named by Booklist and Kirkus as one of the best environmental books of the year. Anna is also the co-author of Hope's Edge (Tarcher/Penguin 2002), and Grub: Ideas for an Urban Organic Kitchen (Tarcher/Penguin 2006). Anna can be seen as the co-host of the public television series The Endless Feast and as a featured expert on PBS's Need to Know, the Sundance Channel's Big Ideas for a Small Planet, and the PBS documentary Nourish. Anna holds an M.A. in Economic and Political Development from Columbia University's School of International and Public Affairs and graduated with honors from Brown University. From 2004 to 2006, she was a Kellogg Food and Society Fellow. Anna is an active board member of Rainforest Action Network and an advisor to the International Fund to Amplify Agro-Ecological Solutions.
CYNTHIA ROSENZWEIG
Cynthia Rosenzweig is an agronomist and research scientist with the NASA Goddard Institute for Space Studies and Columbia University's Earth Institute. She is Co-Chair of the New York City Panel on Climate Change, a body of experts convened by the mayor to advise the city on adaptation for its critical infrastructure. She co-led the Metropolitan East Coast Regional Assessment of the U.S. National Assessment of the Potential Consequences of Climate Variability and Change, sponsored by the U.S. Global Change Research Program. She was a Coordinating Lead Author of the IPCC Working Group II Fourth Assessment Report. She is Co-Director of the Urban Climate Change Research Network (UCCRN) and Co-Editor of the First UCCRN Assessment Report on Climate Change and Cities (ARC3), the first-ever global, interdisciplinary, cross-regional, science-based assessment to address climate risks, adaptation, mitigation, and policy mechanisms relevant to cities. She is the founder of AgMIP, a major international collaborative effort to assess the state of global agricultural modeling, understand climate impacts on the agricultural sector, and enhance adaptation capacity, as it pertains to food security, in developing and developed countries. She was named as one of "Nature's 10: Ten People Who Mattered in 2012" by the science journal Nature. A recipient of a Guggenheim Fellowship, she joins impact models with climate models to project future outcomes of both land-based and urban systems under altered climate conditions. She is a Professor at Barnard College and a Senior Research Scientist at the Earth Institute at Columbia University.
ALICE WATERS
Alice Waters, chef, author, and the proprietor of Chez Panisse, is an American pioneer of a culinary philosophy that maintains that cooking should be based on the finest and freshest seasonal ingredients that are produced sustainably and locally. She is a passionate advocate for a food economy that is "good, clean, and fair." Over the course of forty years, Chez Panisse has helped create a community of scores of local farmers and ranchers whose dedication to sustainable agriculture assures the restaurant a steady supply of fresh and pure ingredients. In 1996, Waters's commitment to education led to the creation of The Edible Schoolyard at Berkeley's Martin Luther King, Jr., Middle School: a one-acre garden, an adjacent kitchen-classroom, and an "eco-gastronomic" curriculum. By actively involving a thousand students in all aspects of the food cycle, The Edible Schoolyard is a model public education program that instills the knowledge and values we need to build a humane and sustainable future. The program is nationally recognized for its efforts to integrate gardening, cooking, and sharing school lunch into the core academic curriculum. Alice established the Chez Panisse Foundation in 1996 to support the Schoolyard and encourage similar programs that use food traditions to teach, nurture, and empower young people. Waters is Vice President of Slow Food International and she is the author of eight books, including The Art of Simple Food: Notes and Recipes from a Delicious Revolution, and the Art of Simple Food II, (Random House, 2013)
COURTNEY WHITE
Courtney White is the Founder and Creative Director of Quivira Coalition. A former archaeologist and Sierra Club activist, Courtney dropped out of the "conflict industry" in 1997 to co-found The Quivira Coalition. Today, his work with Quivira concentrates on building economic and ecological resilience on working landscapes, with a special emphasis on carbon ranching and the new agrarian movement. Courtney's writing has appeared in numerous publications, including Farming, Acres Magazine, Rangelands, and the Natural Resources Journal. His essay "The Working Wilderness: a Call for a Land Health Movement" was published by Wendell Berry in 2005, in his collection of essays titled The Way of Ignorance. In 2008, Island Press published Courtney's first book Revolution on the Range: the Rise of a New Ranch in the American West. In 2010, Courtney was awarded the Michael Currier Award for Environmental Service by the New Mexico Community Foundation.
Registration for this lecture will open March 11, 2014 at 10 am. Sign up here! There is no SFF host for this event.