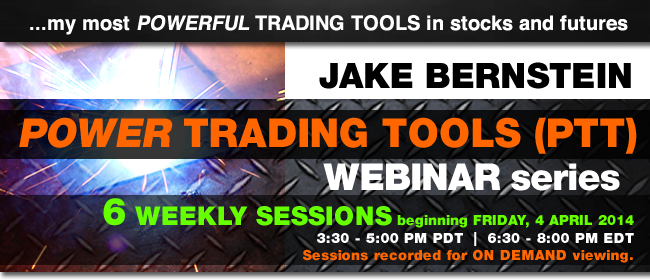 Click here to Register
My NEW and POWER PACKED Weekly Webinar Series
POWER TRADING TOOLS (PTT) Webinar Series

90 minutes weekly on my most POWERFUL trading tools in stocks and futures.
*These sessions will be recorded for ON DEMAND viewing.

Dear Fellow Trader:
I am once again deeply appreciative of the very positive feedback I've been getting from you about the last SSTT2 webinar series. As you know, my intent above and beyond the obvious end of making money has been to educate you in my methods with clarity, consistency, and complete objectivity wherever and whenever possible. I believe these goals were achieved. Not surprisingly the feedback I have received from so many of you is that the best part of the series was the follow through every week on all signals and trades that triggered.
Many of you sent questions and suggestions ALL of which I take seriously. Among the most frequently asked questions was "how to take advantage of today's immense volatility?" Given the massive volatility in today's markets my new webinar series will indicate my new VBS14 volatility break out system, and I wIll make the Genesis system code available to you at no charge.
My next 6 session Webinar series POWER TRADING TOOLS will address
the most pertinent of your excellent suggestions:



Short- term stock and futures HIGH ODDS 100% objective seasonals

Selected SPREAD TRADES – technical and seasonal

Depth of Market: my latest refinements and applications

My NEW Volatility Breakout System – logic, signals, track record
and trades – GENESIS CODE provided at no charge!

Trading Forex with MOM/MA signals

My NEW GAP trading method for stock trading

The CNBC Media Day Trade in stocks

Two new profit maximizing strategies

Your questions and my answers weekly

Join me at the best trading webinar series yet!

Click here to register.

Sincerely,

JAKE BERNSTEIN