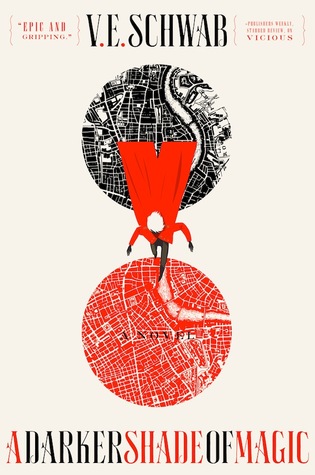 Plot summary: "Kell is one of the last Antari, a rare magician who can travel between parallel worlds: hopping from Grey London — dirty, boring, lacking magic, and ruled by mad King George — to Red London — where life and magic are revered, and the Maresh Dynasty presides over a flourishing empire — to White London — ruled by whoever has murdered their way to the throne, where people fight to control magic, and the magic fights back — and back, but never Black London, because traveling to Black London is forbidden and no one speaks of it now.

Officially, Kell is the personal ambassador and adopted Prince of Red London, carrying the monthly correspondences between the royals of each London. Unofficially, Kell smuggles for those willing to pay for even a glimpse of a world they'll never see, and it is this dangerous hobby that sets him up for accidental treason. Fleeing into Grey London, Kell runs afoul of Delilah Bard, a cut-purse with lofty aspirations. She robs him, saves him from a dangerous enemy, then forces him to take her with him for her proper adventure.

But perilous magic is afoot, and treachery lurks at every turn. To save both his London and the others, Kell and Lila will first need to stay alive — a feat trickier than they hoped."

***

Please visit the Discussions section to see and make recommendations for future titles.

***
We will be meeting at a study cafe called Meeple. Their largest rooms have twelve seats, so attendance for this meetup is capped at twelve. Please keep your status up to date!
Cost: Either buy a drink from the cafe (5,000-7,000 won) or pay a small meeting-room fee (I believe it's about 3,500 won.)
Directions to Meeple: Come out of Sinchon Subway Station Exit 4 and walk straight for a couple of minutes. You should see a building on your left with a Tom & Tom's and a Standard Chartered. There is an escalator directly under the Tom & Tom's; take it down to the basement. You will need to make a U-turn at the bottom of the escalator. Walk down the narrow corridor between the escalator and the Penpia stationery store. Go down the escalator at the end of the corridor. Meeple will be directly ahead of you.
Hope to see you there!