Our next "bonus" nonfiction book discussion will be Sapiens: A Brief History of Humankind, by Yuval Noah Harari.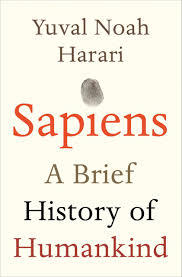 From Goodreads: "100,000 years ago, at least six human species inhabited the earth. Today there is just one. Us. Homo sapiens. How did our species succeed in the battle for dominance? Why did our foraging ancestors come together to create cities and kingdoms? How did we come to believe in gods, nations and human rights; to trust money, books and laws; and to be enslaved by bureaucracy, timetables and consumerism? And what will our world be like in the millennia to come? In Sapiens, Dr Yuval Noah Harari spans the whole of human history, from the very first humans to walk the earth to the radical – and sometimes devastating – breakthroughs of the Cognitive, Agricultural and Scientific Revolutions. Drawing on insights from biology, anthropology, palaeontology and economics, he explores how the currents of history have shaped our human societies, the animals and plants around us, and even our personalities. Have we become happier as history has unfolded? Can we ever free our behaviour from the heritage of our ancestors? And what, if anything, can we do to influence the course of the centuries to come? Bold, wide-ranging and provocative, Sapiens challenges everything we thought we knew about being human: our thoughts, our actions, our power ... and our future."

***
We will be meeting at a study cafe called Meeple. Their largest rooms have twelve seats, so attendance for this meetup is capped at twelve. Please keep your status up to date!
Cost: Either buy a drink from the cafe (5,000-7,000 won) or pay a small meeting-room fee (I believe it's about 3,500 won.)
Directions to Meeple: Come out of Sinchon Subway Station Exit 4 and walk straight for a couple of minutes. You should see a building on your left with a Tom & Tom's and a Standard Chartered. There is an escalator directly under the Tom & Tom's; take it down to the basement. You will need to make a U-turn at the bottom of the escalator. Walk down the narrow corridor between the escalator and the Penpia stationery store. Go down the escalator at the end of the corridor. Meeple will be directly ahead of you.
Hope to see you there!