There is no reason why you should spend your  Friday Nite  at home!
Gong Xi Fa Cai
Let us have an enjoyable night of get-together at Terrace Bar to celebrate CNY and exchange greetings with other members.
I wish all members a Happy Chinese New Year!
May all of you be blessed with good fortune, peace and joy, good health, abundant wealth and prosperity in the year of the Horse.
Experience a night of fun and culture with friends and colleagues
Let us live for Friday Night when we want to do what we really want to do. Making new friends, chilling out with drinks, unwind office stress , looking for a date etc.
Then surround yourself in the company of lovely people who also enjoy good drink, great music and lively conversations

Friday Nite Get-together is ideal event for you. Come and let us party like there is no tomorrow
This event has been published in some big and popular Meetup groups and a big turnout is expected. Hence be prepared to make new friends not only from this group but also from other big and popular Meetup groups.
Zafferano @ Ocean Financial Centre
The Bar is perched on the 43 floor of the Ocean Financial Centre in the Central Business District, just minute from Raffles Place MRT,  -
The outdoor timber-decked patio serves up transcendental 270-degree wrap-around views of the city skyline. You may never tire of the panoramic views
Zafferano's al fresco terrace is great for drinks and light bites with pulsating beats ringing through the air to accompany you as you catch the sunset at dusk or admire the glittering MarinaBayskyline at night
Inside nice views of the bar: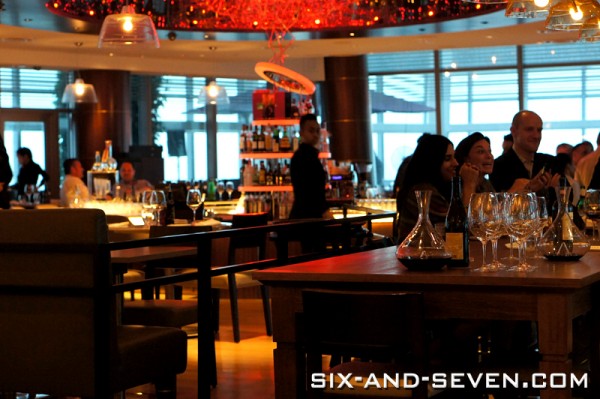 Outside nice views of the bar:
After work will never be the same again with Zaffereno. At Zafferno, enjoy the finer things in life
Dress code
Smart casual
No flip-flops and tank tops
Transport
Nearby Stations: Raffles Place
Bus Lines: 10, 57, 70, 75, 100, 107, 128, 130, 131, 162, 196
Telephone[masked]
Nearby parking is available at:
CliffordCentre
RepublicPlaza
Golden Shoe
https://www.facebook.com/ZafferanoSG
http://www.streetdirectory.com/sg/ocean-financial-centre/10-collyer-quay-049315/6361_560.html
Registration fees:S$15(payable in cash only) for  one Standard Drink
Please register for event at the registration counter of the venue and receive a drink coupon(redeemable at bar counter. Lost drink  coupons are not replaceable) and a name tag.Please wear the name tag always during the event with a name(real or not). Persons without name tags will be requested to leave the event and will not be  allowed for future events.
Newbies: Get a star sticker @registration counter. Go to Newbie Corner between 7pm-8pm and meet Host Francis. He will introduce to others
Going back with a lot of new friends
If lucky, going back with someone special
I will be there to meet and greet personally everyone of you
Francis
Assistant Organiser
PS: Please read updated FAQ below before coming to my event to have answers to your doubts/worries and to avoid any misunderstanding
FAQ (Frequently Asked Questions)
Question: Hello! I would like to go to this event. But I am very new to the group. Is it okay to go this event by myself? Thanks!
Yes, most of the newbies come by themselves. But after attending my event; they go back with a big circle of new friends.
If you are attending the event for the first time, it is only natural you get a bit nervous. Do not worry, meet me or Guest Host and inform that you want to be introduced .We will be very much pleased to help you.
How to identify me? I am an Indian with a name tag "FRANCIS ORGANISER"
Question: Hmm..i was there outside but too shy to go inside by myself. Prolly just go somewhere in the area. Next time hopefully. More guts
Hi, sorry to hear that you outside my meetup but too shy to come inside. Being newbie, I can understand your fear and anxiety. Few years back, I was also a shy newbie like you.
Next time, please go to registration counter at the venue and request staff to meet organiser. The staff will inform me. I will come, personally welcome you and introduce to others.
Question: We register when we come that night at Venue?
Yes, you have to register again at the venue.
Members who do not register at the event, arguing that they have already RSVPed in the Meetup website, will be asked to leave the venue
Question: This is my first time joining such event. How do I register again at the venue?
Hi , welcome to my event. When you reach the venue, you will see Registration Table, with a signage "Francis Meetup Event" on the table. Please tell the staff that you are coming for Francis Meetup Event. Pay in cash, registration fees and get a drink coupon and a blank name tag.
Question: Can I bring my friend who is not in the group?
Sure, you can bring your friend, who is not in the group. Please register for your friend also at the registration table
Question: we are very new to this group :) who do we look for when we get there?
You can always look for me (Francis Organiser) when you reach venue. C u in the event
Question:I'm newbie and do not know anybody. How to start a conversation?
My group members are very friendly. So don't be shy and say "hello" or address them by names in their name tags  You never know where the conversation might lead to! friendship or may be relationship.
Question:What is the best time to make more friends?
Please come between 7-8pm. During the period, members will go around, mingle, make new friends and form small groups based on work, hobby, interest, etc
Question:How to identify the venue of this Meetup?

Most of the time, we will have our own signage. Hence please look for signage with words "FRANCIS MEETUP EVENT" at Registration Counter and at the entrance of the venue
Question: hello! am new and haven't exactly tried such meetups so cld I ask how do we recognise each other?
It is very easy to recognize other members since all my members will have name tags. Most of my events are private events. Hence you can mingle with others freely
Question: Is it mandatory for everyone to wear nametag? Im not comfortable doing thar in a public event
If you are not comfortable to write your real name in name tag, you can have any other name or blank name tag. If you are not having name tag, other members will think that you are not from Meetup group and you may not able to mingle with others in the event

Question:My work will end late ... Can I get there by 8pm 
Yes, but my only worry is that if you come late, you may lose the golden opportunity to meet most of the interesting members.
Question:I will be bringing guests with me.. I hope it's not too late to inform.
Sure, please bring your friends, colleagues and business associates who  want to go to a party that is really happening. 
If there are any other questions/doubts, please feel free to post them in the comments section below
----------------------------------
By joining this Meetup, you accept the following terms and conditions:
1.The group or the organiser shall not be held responsible nor liable for any of the guests' incidents during any meetup organised.
2.Promotion of other groups or their events is NOT allowed during this meetup
3.The Organiser and Assistant Organiser reserve the right to refuse entry, expel from the event or ban any member from the group without assigning any reasons thereof